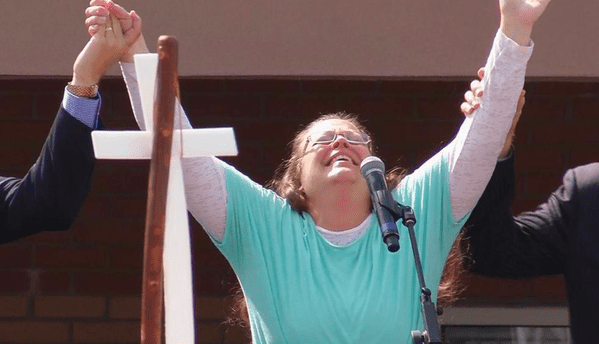 A federal appeals court has given the green light to a couple to sue Kim Davis, the oft-married Kentucky county clerk who in 2015 refused to grant marriage licenses to same-sex couples because of her her Christian beliefs.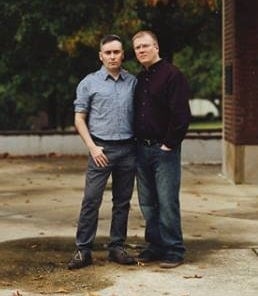 Last November, attorneys for the couples who sued Davis asked District Judge David Bunning to award them $233,058 in legal fees and costs.
Represented by anti-gay litigation group the Liberty Counsel, Davis' lawyers had argued that she shouldn't have to pay because the issue became moot when the Kentucky legislature did as Davis asked and removed county clerks' names from state marriage licenses. However, lawyers for the plaintiffs said they were compelled to sue because Davis violated the law.
On Tuesday, the 6th U.S. Circuit Court of Appeals in Cincinnati said a lower court judge erred in finding that damages claims by David Ermold and David Moore (right) became moot following the administrative work-around.
While the couple eventually did get a license, a three-judge appeals court panel said they could sue over Davis' initial refusal to grant one.
#KimDavis-U denied a same-sex couple a marriage license because u thought u were above the law & treated people unequally. The law wins! pic.twitter.com/LDxyKxsAvV

— The GOP's Nanny (@gopnan) May 3, 2017
According to Raw Story, Circuit Judge Karen Nelson Moore wrote:
"The district court's characterization of this case as simply contesting the 'no marriage licenses' policy is inaccurate because Ermold and Moore did not seek an injunction-they sought only damages.
"The record does not support an argument that (their) damages claims are insubstantial or otherwise foreclosed."
Ermold's and Moore's case has been sent back to District Judge David Bunning in Covington, Kentucky.
Liberty Counsel's Mat Staver said that he remains confident that Davis will win. "The ruling," he argued, "keeps the case alive for a little while but it is not a victory for the plaintiffs."
However, Michael Gartland, a lawyer for Ermold and Moore, said damages claims based on past harm often survive mootness challenges.
He added: The next step will be to go to discovery and go to trial, where I am confident we will obtain a judgment against Davis."
Watch Davis refuse to issue a marriage license to Ermold and Moore below.
(Ermold and Moore image via Wikipedia)
https://www.youtube.com/watch?v=ComaDQijgxA