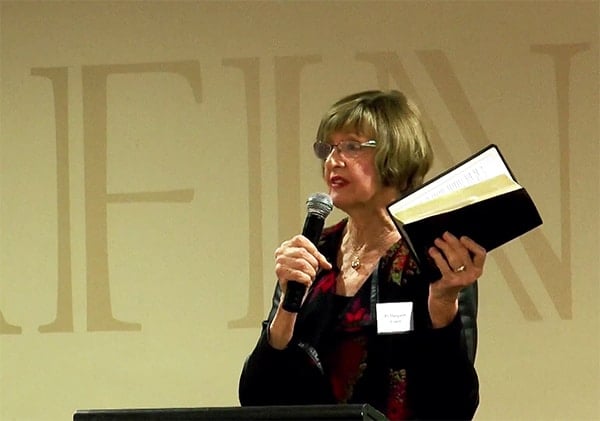 Former tennis great turned anti-LGBTQ crank Margaret Court has been in rare form lately, but not the kind that brought her 24 singles Grand Slam titles. The 74-year-old Australian has now accused the "US gay lobby" of orchestrating talk of renaming the arena that bears her name in Melbourne Park, home to the Australian Open.
In actuality, fellow tennis players and luminaries such as current men's top player Andy Murray and Martina Navratilova have registered their disapproval of Court's outbursts in the wake of her professed boycott against major airline Qantas due its support for marriage equality. Navratilova explicitly called for the arena to be renamed, saying, "Her vitriol is not just an opinion. She is actively trying to keep LGBT people from getting equal rights." Court has since further complained that tennis is "full of lesbians" and lamented transgender children, part of a pattern that has also previously included her expressed view that same-sex marriage is "abominable."
The latest remarks have come in radio interviews and given their accusatory nature seem likely to stir more criticism. The BBC reports:
Regarding calls for the stadium in her honor to be renamed, she said: "I think I've won more Grand Slams than any man or woman and if it is [renamed], I don't believe I deserve it.
"They could probably get 100,000 petitions in 24 hours because that's how they work. There's a lot of money behind it, and it's coming from America."
And asked about a possible conspiracy, she added: "Yes, I believe there is… I think the [gay] lobby, yeah."
Tennis Australia and the operator of the Margaret Court Arena, Melbourne and Olympic Parks, have distanced themselves from Court's views on gay marriage. There are currently no plans to rename the venue.
Despite her puzzling finger-pointing abroad, it is her compatriots who have instead pushed back against her remarks. Australian players Sam Stosur and Casey Dellacqua, who each picked up the singles and doubles titles respectively at a tournament in Strasbourg last weekend and are currently playing in the French Open, each found time to take Court to task, with Stosur warning a player boycott of Margaret Court Arena might ensue at the next Australian Open, while Tennis Australia rushed to put out a statement to distance themselves from Court.
Our statement regarding #MargaretCourt pic.twitter.com/XMxkxwIDrJ

— TennisAustralia (@TennisAustralia) May 25, 2017
Proud of you Case x https://t.co/xaGDHQo22N

— Samantha Stosur (@bambamsam30) May 25, 2017
Margaret. Enough is enough. pic.twitter.com/Cl1DtC4aSL

— Casey Dellacqua OLY (@caseydellacqua) May 25, 2017
Major Australian newspaper The Sydney Morning Herald also ran a column stating that Court herself should be boycotted.