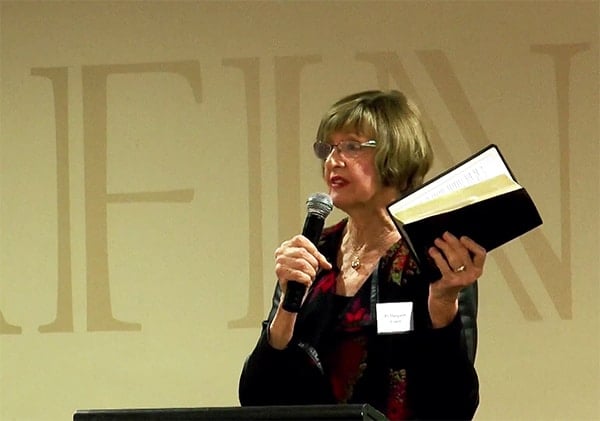 Australian tennis great Margaret Court earned 24 singles Grand Slam titles, the standing record in women's tennis, during her career in the 1960s and '70s, but less illustrious is her nearly as long-standing opposition to LGBT rights.
In a letter to The West Australian newspaper, Court took it upon herself to announce that she will be boycotting major Australian airline Qantas due to its on-the-record support for marriage equality in the country. Apart from its official corporate stance, the CEO of Qantas, Alan Joyce, is an openly gay man and was targeted in a pie attack by an anti-LGBT protester earlier this month. Court brought up her previous promotional work on behalf of the carrier in her statement as a contrast to her current disavowal:
"I am disappointed that Qantas has become an active promoter for same-sex marriage," she said in a letter to The West Australian newspaper that was widely shared and discussed on social media.
"I believe in marriage as a union between a man and a woman as stated in the Bible.
"Your statement leaves me no option but to use other airlines where possible for my extensive traveling."
Court, who in her post-tennis life has become a pastor in Perth's Victory Life Church, has periodically made known her opposition to same-sex marriage and relations publicly, calling them "abominable" and "unhealthy," as well as frequently claiming that being gay is a choice while endorsing the conversion therapy offered by her church. Back in 1990, she took the triumphant occasion of Martina Navratilova's ninth and final singles Wimbledon title to proclaim the LGBT tennis star a bad role model for children due to her sexual identity.
Given this history, it should be no surprise that Navratilova herself has now suggested that the arena bearing Court's name in Melbourne Park, where the Australian Open is played, should be renamed due to her problematic views, which have been repeatedly rejected by fellow great and fierce LGBT advocate Billie Jean King as well as tennis governing bodies Tennis Australia and the Women's Tennis Association.
While there is no indication as yet that such a move will be taken, Australian-born British tennis player Laura Robson famously wore a rainbow hair ornament in 2012 while playing in Margaret Court Arena as a form of protest against its namesake's rhetoric shortly after that set of aforementioned remarks were made. Other players have spoken up against this latest episode, which comes as the French Open is gearing up to begin next week:
Australian player Casey Dellacqua, who is gay, tweeted: "Margaret. Enough is enough," alongside an image of a letter by Court in a newspaper after the birth of her first child in 2013.
The 74-year-old had written of the "sadness that I see that this baby has seemingly been deprived of his father."
Marriage equality in Australia remains in limbo, following a previous failed parliamentary vote on the subject in 2012 and ongoing insistence by conservative Prime Minister Malcom Turnbull that nothing other than a nationwide plebiscite, which was itself voted down by lawmakers, will be brought forward by his government, even as legislative attempts persist.