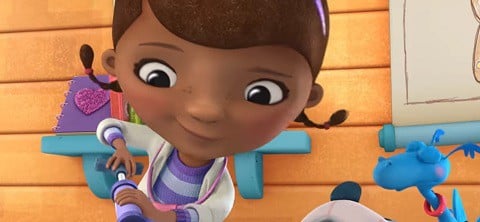 The 50,000-strong One Million Moms (OMM) is coming for Disney Junior show Doc McStuffins for including "a family with two moms."
According to OMM, the previously "clean" Doc McStuffins depicted a family of "two females and two children" in an August 5th episode.
"One mother and child get separated from the other mother and child," warns OMM, "but reunite in the end with a family hug."
Filthy!
The misleadingly named affiliate of listed hate group the American Family Association continues:
This should not come as a surprise since the show's creator and executive producer of the series, Chris Nee, is lesbian and has stated in an online interview that she will instill subtle messages about sexual orientation into the storyline.
…
Disney Channel has questionable content at times, especially when it portrays kids showing disrespect towards parents and adults. However, many still consider it a family-friendly channel since it is a network created for children, particularly the Disney Junior division, which is primarily for preschoolers.
But this is not a first for Disney Channel. During the finale of "Good Luck Charlie" in 2014, a family with two moms was showcased as the focal point of the episode.
This past spring on Disney XD, a "Star vs. the Forces of Evil" episode featured a scene at a boy band concert where several people, including same sex couples, kiss on cue with the music.
Controversial topics and lifestyle choices should be left up to the parents to discuss and Disney Junior should not introduce this to young children. Just because an issue may be legal or because some are choosing a lifestyle doesn't make it morally correct. Disney should stick to entertaining and providing family-friendly programming instead of pushing an agenda.
OMM has urged members to send Disney a letter asking the channel to not air the "controversial" Doc McStuffins episode.
"If producers air this episode as originally planned," they warn, "then conservative families will have no choice but to no longer watch Disney Channel Network in their homes so they can avoid previews, commercials, and reruns."
(Image via YouTube)