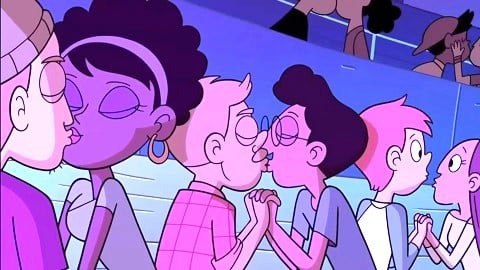 Deranged Christian group One Million Moms (OMM) is losing the plot over the very notion of Disney including LGBT characters.
Earlier this week, Disney XD aired scenes with same-sex couples kissing in Star vs. the Forces of Evil. OMM was not best pleased.
The 25,000-odd moms are now apoplectic at the news that a new live-action Beauty and the Beast will include an "exclusively gay moment" for the character of LeFou, according to director Bill Condon. Heavens to Murgatroyd! won't someone please think of the children?
The boycott-friendly activist group writes:
Disney has been under pressure from the gay community to portray openly gay relationships in its TV shows and movies. And last fall, the creators of "Moana" mentioned in an interview with a liberal media source that they wouldn't rule out an LGBT Disney princess. Director Ron Clements said, "It seems like the possibilities are pretty open at this point."
There's also word the new "Beauty and the Beast" will include a gay storyline – between LeFou and Gaston. "LeFou is somebody who on one day wants to be Gaston and on another day wants to kiss Gaston. He's confused about what he wants," director Bill Condon told Attitude magazine. "It is a nice, exclusively gay moment in a Disney movie," Condon added.
This is the last place parents would expect their children to be confronted with content regarding sexual orientation. Issues of this nature are being introduced too early and too soon, and it is becoming extremely common and unnecessary.
Disney has decided to be politically correct versus providing family-friendly entertainment. Disney should stick to entertaining instead of pushing an agenda. Conservative families need to urge Disney to avoid mature and controversial topics.
OMM might take note that the other kids in the Star vs. the Forces of Evil clip give not one ounce of a sh*t about having the gay agenda forced down their throats.
Support 30,725 Million Mom's latest unsuccessful boycott here.
CHURCH we need to get our act together, these Illuminati slash New World Order liberals are coming at us with all… https://t.co/2N1HTBzEtm

— Ittai 🌖the Growth Guy🇬🇧🇿🇼 (@theittai) March 3, 2017
Watch the highly offensive Star vs. the Forces of Evil scene below.
https://www.youtube.com/watch?v=9n5ACBivlcg&feature=youtu.be