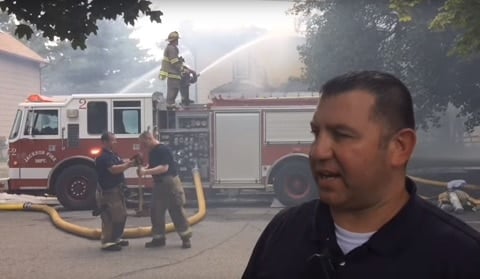 Michigan police are investigating a fire at the home of a prominent LGBT activist as a possible hate crime.
Police had already confirmed that the fire at the Jackson City home of Nikki Joly and Chris Moore was being investigated as arson. Joly is director of the Jackson Pride Center. The couple's' two dogs and three cats died in the fire.
According to Pride Source, a firefighter at the scene said it was "suspicious" how quickly the fire accelerated.
On August 11, Elmer Hitt, director of police and fire service, told MLive.com that an accelerant was used in the fire, which took more than three hours to extinguish.
He later confirmed that the type of accelerant used, current leads and information regarding threats of violence toward the LGBTQ community are "under investigation."
Pride Source notes that an email from Jackson Area Landlord Association's President Robert Tulloch to members of the city council warned that recent Pride celebrations represented "an in your face declaration of war" which "will be met with a violent response."
"This," added Tulloch, "IS the queer agenda."
Friends have set up a You Caring campaign to fund a new home for the couple.
Watch a MLive report below.
(Image via YouCaring and YouTube)