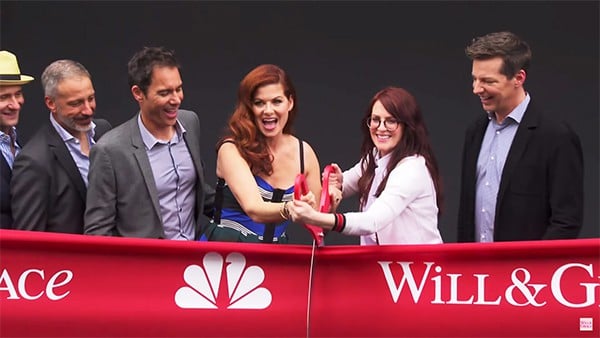 The official Youtube account for the impending Will & Grace reboot, set to premiere on NBC on September 28, has offered up an extended first look in a "sneak peek" video clip.
It revisits a few gags from the promo released last week, while establishing a premise that hangs onto the main aspects from the original series run that wrapped up in 2006, namely that Will and Grace are still living together while Jack, newly single again — "Brad and Angelina announced their divorce the same week as my relationship ends? Selfish!" — is still their neighbor, and "Karen is still rich."
The original main cast, namely Eric McCormack and Debra Messing as the titular characters, and Sean Hayes and Megan Mulally as Jack and Karen, have returned, with the promise of a whole new line-up of scene-stealing guest stars, reportedly including former First Lady Michelle Obama. The reboot has already been picked up for a second season before the first has aired.
Take a look:
[youtube https://www.youtube.com/watch?v=tkGn3l8wdG4]