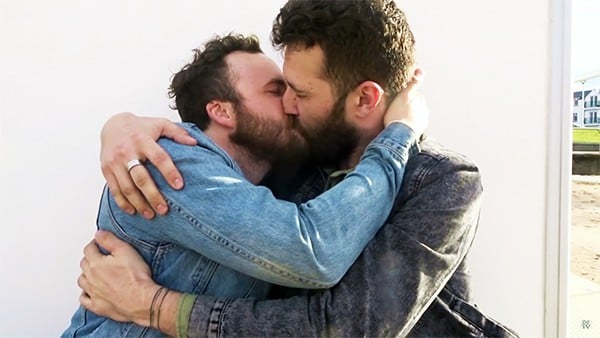 Australian comic vlogger Brad Guy took a break from his usually zany YouTube offerings to share a poignant video in which he proposes to his boyfriend Beau while they are on holiday in Northern Ireland.
Brad, 26, from Melbourne, begins the video by explaining that he planned the trip specifically because Beau told him his favorite place in the world was Northern Ireland due to its vibrant green landscapes and distinctive charms. He also designed his engagement ring with that motif in mind, describing it as a traditional Irish/Celtic claddagh ring with two hands that meet with a heart and a crown.
In the video, Brad sets up a pretext — "Hi, Mum," — but turns to Beau to and begins telling him how much he has meant to him, growing visibly emotional. Once Brad says he wants to "Ask you a special question," realization dawns on Beau and he covers his mouth with his hands. When the moment finally comes that Brad tells him "I want you to be with me forever," Beau is almost too overcome to respond, but manages to nod his head joyously and the two kiss.
Adding an extra layer of significance to the video is not only that Northern Ireland itself remains the only constituent nation in the United Kingdom to have still not recognized same-sex marriages, but that a contentious debate is ongoing in Australia during an ill-conceived postal survey concluding next month on whether or not marriage equality should be legalized. Accordingly, Brad urges watchers to #VoteYes in his social media posts linking to the video:
https://twitter.com/bradjguy/status/917509974414155777
Watch Brad and Beau's beautiful moment below:
[youtube https://www.youtube.com/watch?v=4BCIjs5RxNU]