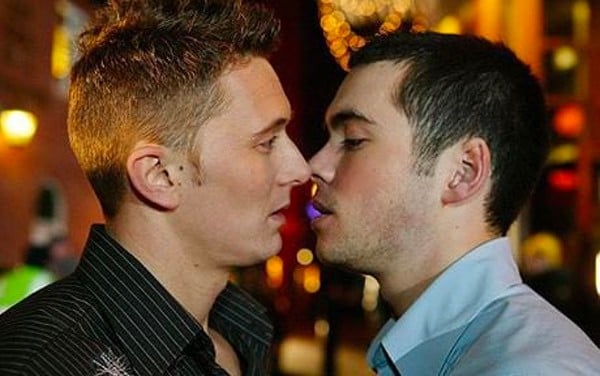 Former Coronation Street star Bruno Langley (above, right) has claimed that the stress of playing the soap's first gay character caused him to sexually assault four women at a music venue in Manchester last month.
Langley, who played Todd Grimshaw in the soap before being released from his contract late last month, wept in court on Tuesday as he was ordered to complete a 12-month community order and submit to a curfew. Langley, who starred in Coronation Street on and off since 2001, apologized to his victims after the case and revealed he is getting help for a drinking problem.
The Daily Mail reports:
His lawyer told the hearing: 'Something happened that night, most possibly in relation to the character he was playing.'
It is understood his comments refer to the stress Langley felt being a straight man playing a gay character…
Passing sentence the judge told him: 'On that evening your conduct was quite disgraceful and degrading. Both of the victims would have been extremely shocked and upset as a result of your conduct.
'The fact that you were heavily intoxicated is not mitigation, it is a further aggravating feature.'
The judge said the convictions mean Langley will probably not work in the TV industry again.
The court heard Langley was "clearly intoxicated" when his first victim went upstairs to collect their coats from the cloakroom.
"As she walked back towards the stairs," prosecutor Karen Saffman said, "Mr Langley grabbed her in the crotch area over her dress."
"He grabbed me. Properly grabbed me. It was a rough grab. Lots of pressure… even though it was through a dress and tights."
When the victim went to go to the restroom she was approached by another woman who had also been sexually assaulted by Langley. Saffman said the second woman told the first victim Langley had groped her "boobs and her bum."
A statement issued by Langley read:
"I sincerely apologise to the people involved and affected by my disgraceful behaviour on the evening of 30th September. I have absolutely no memory of what happened because of excessive alcohol consumption and it was for this reason that I behaved completely out of character. However, I take full responsibility for my actions that night. Since this incident I have been dealing with, and confronting, some personal issues that I have never addressed, and I am also getting help for an alcohol problem, so that this does not ever happen again."
His lawyer Simon Hancock, told the court:
"Clearly, this is an isolated incident, something that happened on that evening. It is alcohol fuelled. The court could see it in isolation, rather than a serial predatory groper. The issue being, this is clearly a man who has alcohol issues, his behaviour clearly crosses a barrier where he touches females. He did not target these females, and he did not fuel them with alcohol."
Hancock added that his client is now unemployed and may have difficulty finding work in the industry again.
Watch the 2004 scene in which Todd kisses his girlfriend's brother below.