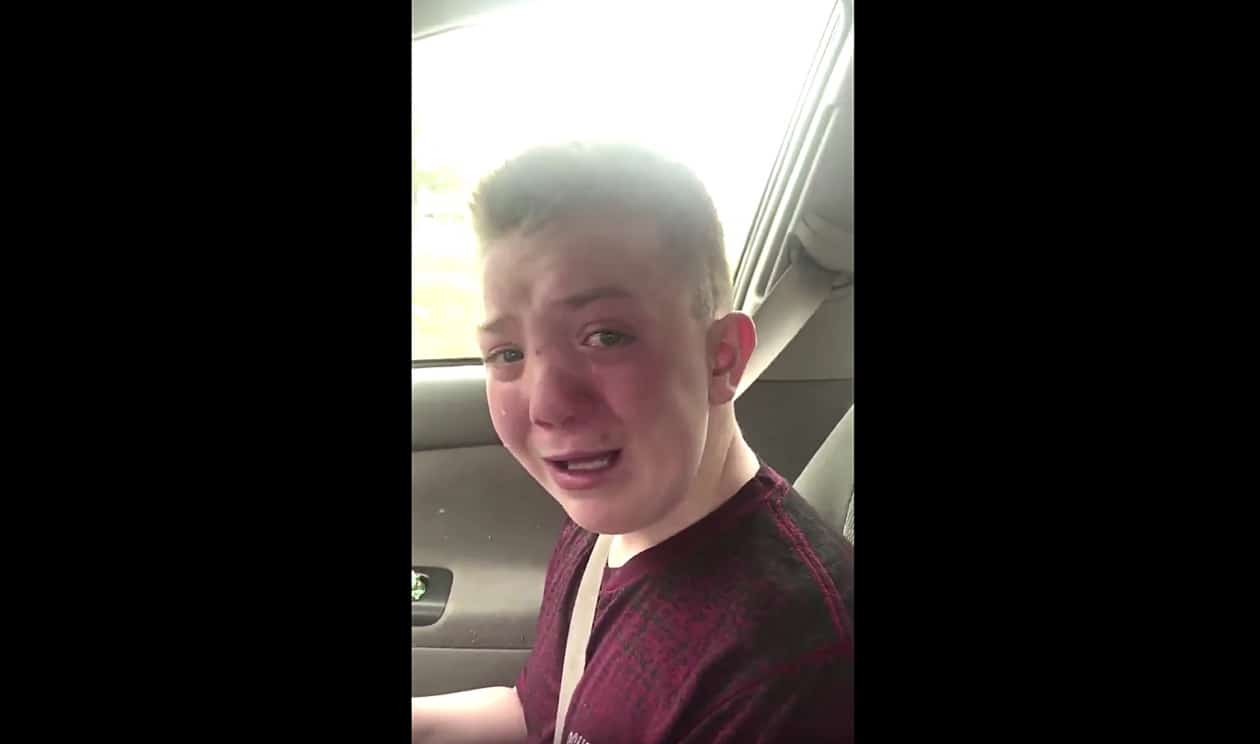 Last night we shared the story of bullied Tennessee teen Keaton Jones and the support he received after his mother Kimberly Jones posted a viral video on Facebook of Keaton asking why bullies do what they do.
Twenty four hours later and the story has changed dramatically after alleged screenshots from Kimberly's Facebook page surfaced online revealing that she's a suspect racist.
Photos show Kimberly Jones posing with the Confederate flag. Another photo shows a Snapchat image containing the words, "I stand for the flag, I kneel at the cross."
Another image tweeted by activist Tariq Nasheed shows an August post by Jones, in which she bullied black protesters: "Dear butt hurt Americans, If you aren't bleeding, no bones are sticking out & you can breathe, STOP crying! For the love, some folks clearly never picked a switch. And before y'all start talking to me about metaphorical, emotional, financial or historical blood & brokenness, Don't. Join a group."
That viral video of #KeatonJones talking about being bullied is heartbreaking, and I feel sympathetic towards that child.
But his mom, Kimberly on the other hand, is a suspected racist who makes very problematic posts bullying Black protesters #TheIrony pic.twitter.com/NUhidunP8z

— Tariq Nasheed 🇺🇸 (@tariqnasheed) December 11, 2017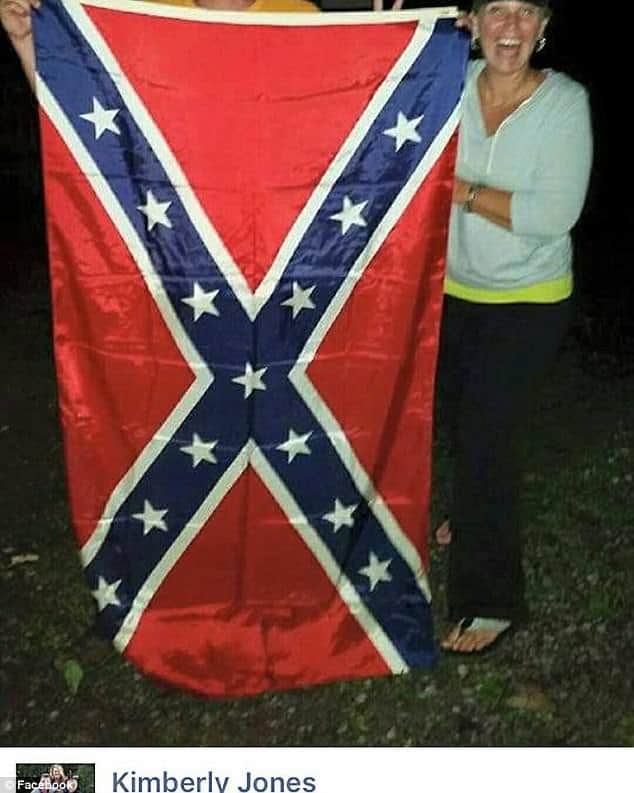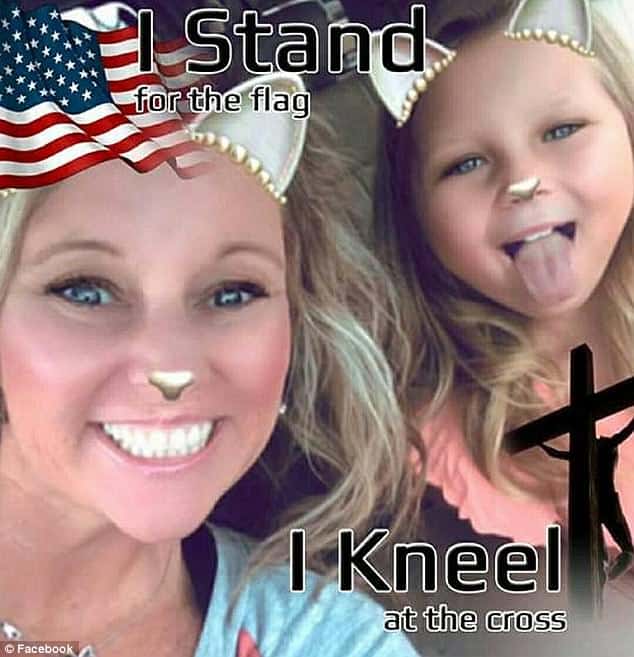 Jones' motivations for sharing the video of her son are now being questioned as well, as there appears to be a big money grab going on online by some alleging to be Jones and others, Buzzfeed News reports:
Kimberly Jones has not responded to BuzzFeed News inquiries, and she's deleted or privatized most of her social media presence. However, someone running an Instagram account claiming to be her has been responding to followers of Keaton's story and sharing donation channels for Keaton.
On Sunday, the account @kimberlyjones_38 reshared the viral video of Keaton along with a vague description of a tenuous relationship with Keaton's father.
"For those that don't know Keaton's father isn't in he's [sic] life and we are been going through Soo much with Keaton's school and personal things I can't discuss at this time. So if you could PayPal me anything. I'll gladly appreciate the help & donation," she wrote.
People have also created other donation channels for Keaton and her mother. One GoFundMe campaign titled "Stand Up for Keaton," created by a man named Joseph Lam, has raised over $58,000 of a $20,000 goal.
A spokesperson for GoFundMe told BuzzFeed News they are in contact with Lam "to ensure all of the funds raised go to Keaton."
Also on Monday, MMA fighter Joe Schilling took to his Instagram page and posted an exchange he had with the user @kimberlyjones_38, in which she called what happened to the middle-school 'an opportunity' for her son and noted that she is poor, 'not rich.'
When Schilling responded by accusing the woman of using her son's pain 'as a platform' and declaring that he was no longer interested in getting involved, the user replied: 'What happened to use whites sticking together and helping one of [sic] another against the predator?'
A woman who claimed to be Keaton Jones' older sister, Lakyn Jones, insisted in a series of tweets responding to her family's critics that her mother was not the one asking for money.
Ms Jones further claimed that her mother's actual Instagram page was private, not public, like the @kimberlyjones_38.
'We aren't looking for money and haven't created any gofundmes [sic],' she said in a message to one user.
A GoFundMe page that had been set up for Keaton with nearly $60,000 has been shut down and is no longer acceptinf donations.
GoFundMe says it needs to contact Kimberly Jones, to ensure she's the beneficiary because the man who started the page doesn't know her. So far, the company has been unsuccessful in reaching her.
A second GoFundMe page, reportedly started by Ms Jones to solicit money for Keaton's Christmas gifts has been shut down due to fraud concerns, according to TMZ.
https://www.youtube.com/watch?v=lGIrJ9_0dIM
Apparently Kimberly Jones is not the owner of a verified Instagram account, and Joe Schilling was communicating with an alleged fake profile:
It seems as though no one can verify the authenticity of the alleged Instagram account belonging to Kimberly Jones. The previous Instagram account below has been wiped of its profile photo, and a Wayback Machine search showed that it once belonged to a teenager, who may be playing an Instagram hoax and selling verified Instagram accounts.
There are other unconfirmed reports that Keaton was using the N-word at school:
There's also an unconfirmed story going around that the incident started because Keaton used the n-word on multiple occasions and his schoolmates started getting on him to stop.
https://twitter.com/Candi_AppleRed1/status/940232279770705920?ref_src=twsrc%5Etfw&ref_url=http%3A%2F%2Fwww.complex.com%2Flife%2F2017%2F12%2Fracist-backstory-viral-video-kid-talking-about-being-bullied
Meanwhile, celebs are responding to the controversy:
If #Keaton was making racially bullying statements he and his mom needs to go to the principles office too & give an apology to those kids. https://t.co/6Eb8Pq69jA

— Patricia Arquette (@PattyArquette) December 11, 2017
Well I'm inviting Keaton to the Golden Globes and making him sit with the cast of Get Out.

— billy eichner (@billyeichner) December 11, 2017
Keaton didn't get to choose the family that raised & shaped him, you smug ghoul. How 'bout showing him that people of all races & creeds can come together? Change things, maybe? Show him a better world? https://t.co/BZqBEboabL

— Patton Oswalt (@pattonoswalt) December 11, 2017
I've seen her posts and if true, I'd say there's potential for a great, teachable moment here. My offer for Keaton to visit ESPN stands, because what happened to him was cruel. That said, this is a stark example of selective empathy. https://t.co/XbZ9NpKJe2

— Jemele Hill (@jemelehill) December 11, 2017
Learning that Keaton's family are supportive of the confederate flag is disappointing for me as a person of colour but I still feel that this child, yes CHILD, deserves to be treated with respect & should not be bullied. The beliefs/hypocrisy of his parents is another issue. 1/2 https://t.co/eAS6AxqJ8I

— Nathalie Emmanuel (@missnemmanuel) December 11, 2017
Maybe the support for Keaton from everyone including people of colour for his right to be treated with dignity and respect might help them see why the confederate flag and what it symbolises historically is upsetting. https://t.co/eAS6AxqJ8I

— Nathalie Emmanuel (@missnemmanuel) December 11, 2017
We have a real boy in a real place with a really emotionally stirring problem. Video of this is ultimately posted to Twitter. This is the last real event to have occurred. The rest (if you agree that twitter is a thought space) is playing out in our minds.

— John Mayer (@JohnMayer) December 11, 2017