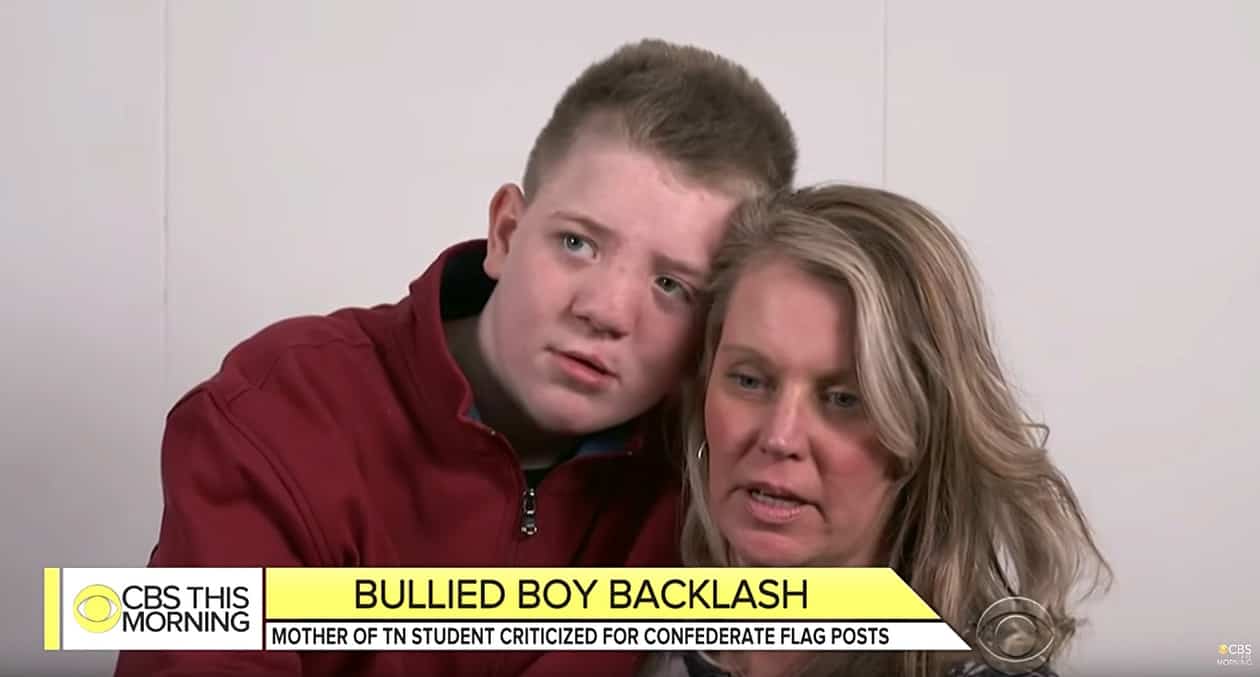 Tennessee teen Keaton Jones and his mother Kimberly sat down for an interview with CBS This Morning to respond to the attention generated by a viral video Kimberly posted to Facebook of Keaton reacting to being bullied. The video received 10s of millions of views, prompting hashtags of solidarity with Keaton and offers from celebrities.
Shortly after the video was posted the narrative changed dramatically when alleged screenshots from Kimberly's Facebook page surfaced online in which she posed with the Confederate flag, and a Snapchat image containing the words, "I stand for the flag, I kneel at the cross," referencing NFL protests over the nation's treatment of African-Americans.
Another image tweeted by activist Tariq Nasheed showed an August post by Jones, in which she was allegedly denouncing black protesters: "Dear butt hurt Americans, If you aren't bleeding, no bones are sticking out & you can breathe, STOP crying! For the love, some folks clearly never picked a switch. And before y'all start talking to me about metaphorical, emotional, financial or historical blood & brokenness, Don't. Join a group."
Kimberly Jones said she is not a racist and said the photo of her posing with the Confederate flag was meant to be "ironic" and "funny," adding that the photos brought to the public's attention were "the only two photos on my entire planet that I am anywhere near a Confederate flag."
She said there was no racist intent: "No, absolutely not. I've spent most of my life being bullied and judged because I wasn't racist."
Not addressed in the interview with Kimberly: Multiple GoFundMe accounts that have sprung up appearing to exploit the public's sympathy for Keaton's plight.
Keaton was interviewed as well. He said that the video "made [him] feel like he had accomplished something…something that could actually change the world."
Watch: