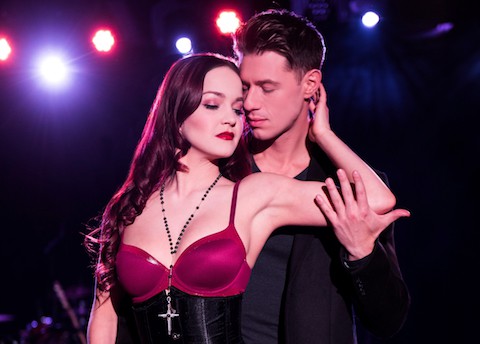 These are tough times for sordid sex dramas — especially one involving coercion, deceit, and minors (oh, my!). Les Liaisons Dangereuses, last on Broadway in 2016, just barely gets away with it for being French, set hundreds of years ago, and featuring adults. Cruel Intentions, the 1999 movie that transfers the latter's ruthless plot of erotic conquest to would-be Gossip Girl Manhattan, is great fun — but also vacuous and a bit perverse.
Cruel Intentions: The Musical (aptly billed as a "musical nightlife experience"), which opened downtown last night at (Le) Poisson Rouge, solves all that with a clever and often inspired score of '90s pop-rock favorites, whose emo lyrics have never made more sense. (If they ever made sense at all: It's been decades since we gave up trying to decipher "Genie in a Bottle" or "Sex and Candy.") The musical's nostalgic score actually brings the story to new heights, supplanting some of its empty cruelty with exactly the kind of soaring, confusing emotions that color teen romance.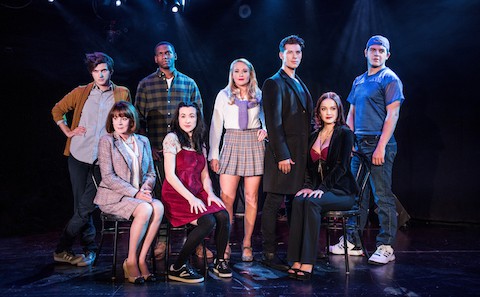 Pop music is practically — if not explicitly — made for lending words and major chords to teenage drama of epic proportions. Co-creators Jordan Ross and Lindsey Rosin (who also directs) assemble a spot-on score of '90s gems that accompanied a whole generation of sexual and romantic awakenings, from the smitten passion of Sixpence None the Richer's "Kiss Me" and The Cardigans' "Lovefool" to defiant anthems from Garbage and Melissa Etheridge. Some are made into duets, others serve as earnest ballads of self-expression.
Quick primer on this prep school saga: Step-siblings Kathryn (a fierce and corseted Lauren Zakrin) and Sebastian (a built, square-jawed Constantine Rousouli) have a Cersei and Jaime Lannister thing going. Their grand scheme involves Kathryn exacting revenge on her ex, Sebastian deflowering the principal's daughter, and a wager where if Kathryn wins, she gets his Jaguar, and if Sebastian wins, he gets, well.. another kind of sweet ride involving Kathryn.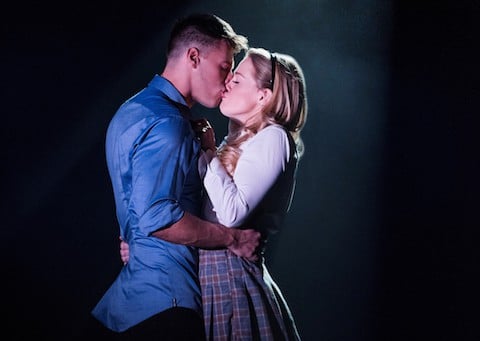 Their pawns are Sebastian's viginal conquest Annette (Carrie St. Louis, theme song: No Doubt's "I'm Just a Girl") the naive-turned-nasty Cecile (Jessie Shelton), and her Black music teacher Ronald (Matthew Griffin) — who get together to the tune of Deep Blue Something's "Breakfast at Tiffany's." In an expanded gay subplot, the entrapment turned romance between hipster Blaine (Spring Awakening's Alex Boniello) and football player Greg (Brian Muller) brilliantly unfolds to boy band hits "I Want it That Way" and "Bye, Bye, Bye."
Not every number is a home run. TLC's "No Scrubs" is greeted by the same nostalgic yelps as all the others, but it doesn't land, or do much to solve the problem of Cecil's racist mother (Patricia Richardson of Home Improvement fame). When Griffin's Ronald reprises the song as a sort of clapback, it makes even less sense.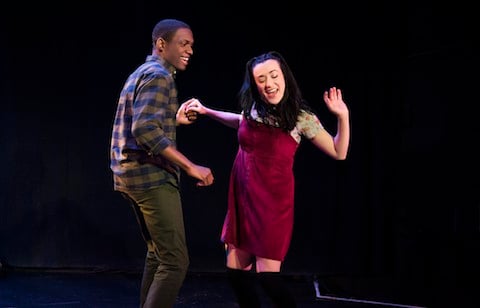 The screenplay by Roger Kumble (also one of the musical's creators) remains with its most iconic lines in tact (e.g. Cecile: "He took down my pants and started writing the alphabet, but he was writing it with his tongue."). The West Village club setting, in addition to being ideal for the young ensemble's belting talents, is a perfect homage to the movie's '90s Manhattan milieu. The production premiered two years ago in L.A., where it earned seals of approval from the film's stars Sarah-Michelle Gellar, Reese Witherspoon and Selma Blair. After a pop-up performance here in February, fortunately for nostalgic New Yorkers, Cruel Intentions: The Musical has come home to roost.
Follow Naveen Kumar on Twitter: @Mr_NaveenKumar
(photos: jenny anderson)