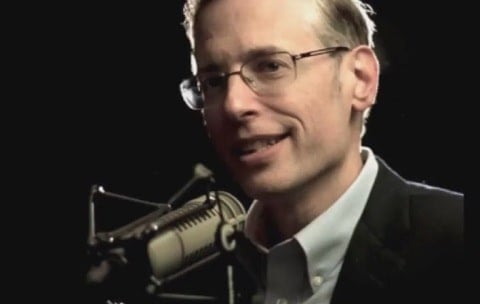 "Kill the Gays" pastor Kevin Swanson said that the natural disasters that struck the U.S. in 2017 were God's judgement on America for "turning pedophiliacs and homosexuals into heroes."
Heterosexual Swanson, who last year said that Beauty and the Beast promotes "interspecies breeding," made the comments on his radio show last week.
https://twitter.com/AlloysMarsden/status/948702890482270208
According to Right Wing Watch, he said:
"2017 was a window of opportunity for the nation to repent and it didn't happen. It was the year of God's judgment on America. God brought judgment to America in 2017. 2017 brought the worst hurricanes and the worst fires in American history."
"In fact, it was the year of God's judgment on the state of California as well. It was the year that California introduced 10 textbooks into public schools that turned sodomites—that is, men from Sodom doing what men from Sodom like to do—and turning pedophiliacs and homosexuals into heroes. That was the point of the 10 textbooks that were issued for the first time. I believe that Jerry Brown signed the bill that encouraged homosexual indoctrination in California public schools for six-, seven-, eight-, nine- and 10-year-olds and that came into fruition for the first time."
He concluded that 2017 "happened to be the year that God brought the most severe possible judgment on California."
Radio show host Kevin Swanson claims that Roy Moore lost because the people of Alabama watch too much porn. If that's the case, then thank you @Pornhub for your service.

— The Defunct Games (@DefunctGames) December 24, 2017
Listen to Swanson's comment below.
https://soundcloud.com/rightwingwatch/rww-news-kevin-swanson-says-california-wildfires-were-gods-judgment-for-teaching-lgbtq-history