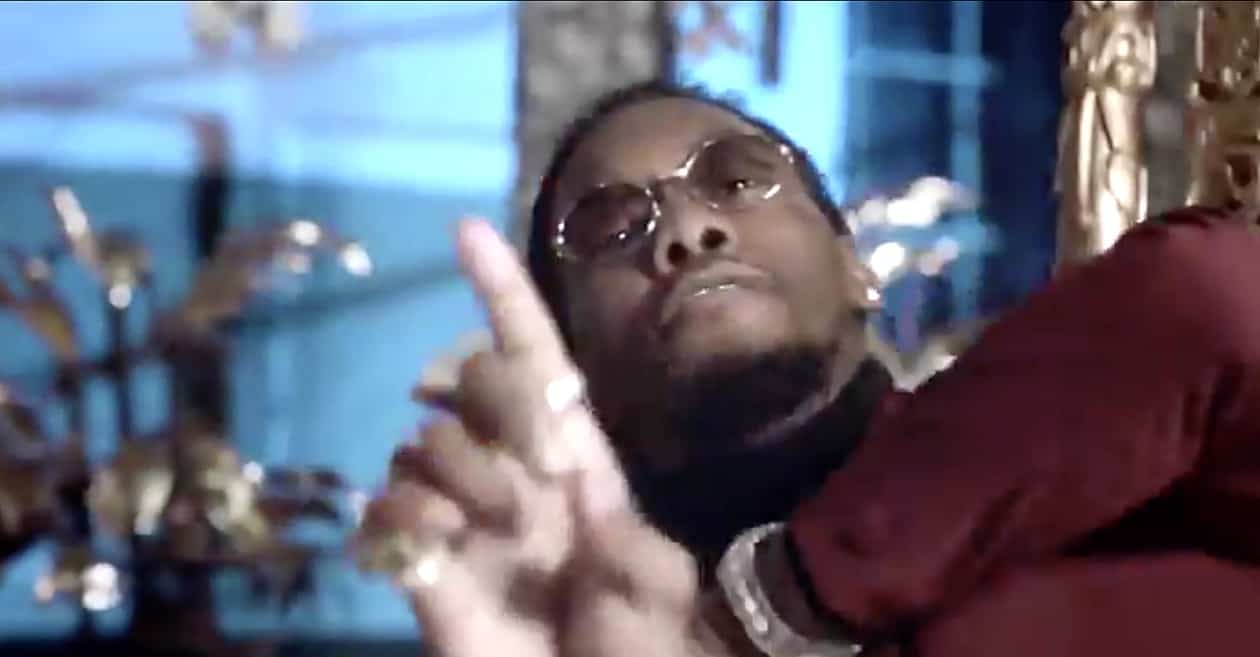 Atlanta based hip-hop trio Migos, who have spent the past year trying to explain why they're not homophobic, may have a much harder time after one of their members, the rapper Offset, declared "I don't vibe with queers" in a guest appearance on YFN Lucci's song "Boss Life".
Migos tried to explain that their homophobia was misunderstood after some off-color comments last year in Rolling Stone about Makonnen, in which they suggested his sexual orientation undermined his credibility. Migos told TMZ their remarks were twisted by the publication, and that they would be open to playing a gay club…if the club paid up.
They said it was "f**ked up" and "whack" that hip-hop fans supported Makonnen, who had recently come out as gay.
Migos also reportedly refused to perform alongside drag queens during Katy Perry's SNL appearance.
The lyric, at 0:23.
https://twitter.com/WSHHDAILYMUSIC/status/953670342303715329?ref_src=twsrc%5Etfw&ref_url=http%3A%2F%2Fthatgrapejuice.net%2F2018%2F01%2Foffset-cannot-vibe-queers%2F
Offset claims that he didn't write the lyric about gay people, providing a dictionary definition of the term. Sure.
Wrote the rapper on Instagram:
I didn't write the line about gay people. I have said before since these issues before that I got love for all people. My passion for fashion has lead me to a lot of gay people around me who I have mad respect for and we are very cool so I'm not in a place where I'm hating like that. When I wrote that I was thinking of words that could rhyme with the others (here, lear, solitaire, bear) and I saw this definition about her having a queer feeling she was being watched and it fit what I was thinking about a stalker creepy paparazzi situation. To me that "queer" I don't mean someone who's gay. I mean lame people who film you, post it and stalk you. Lingo that means strange or odd.
I M S O R R Y
I A P O L O G I Z E
I'm offended I offended anybody
https://www.instagram.com/p/BeGG7tHnjmD/?utm_source=ig_embed&utm_campaign=embed_ufi
Some reactions to the lyric:
https://twitter.com/MNEK/status/953899821554954240?ref_src=twsrc%5Etfw&ref_url=http%3A%2F%2Fwww.gaytimes.co.uk%2Fnews%2F97139%2Fmnek-slams-rapper-offset-saying-cannot-vibe-queers-new-song%2F
https://twitter.com/MNEK/status/953905121150361600?ref_src=twsrc%5Etfw&ref_url=http%3A%2F%2Fwww.gaytimes.co.uk%2Fnews%2F97139%2Fmnek-slams-rapper-offset-saying-cannot-vibe-queers-new-song%2F
did he just say… he doesn't vibe with queers? then continue to talk about the designer clothes he wears… that are designed by… queers…? https://t.co/RyprncBVz2

— myai (@CHRYS4LIS_) January 17, 2018
https://twitter.com/pettyblackboy/status/953728810603687936?ref_src=twsrc%5Etfw&ref_url=http%3A%2F%2Fwww.xxlmag.com%2Fnews%2F2018%2F01%2Foffset-i-cannot-vibe-queers-lyric-criticism%2F
He can't vibe with Queers?! I am no longer a fan. That's fucked up bro. @OffsetYRN I was a huge Migos fan, I'm good I'll take my shit else where. 🖕🏻 https://t.co/7BUeWuQD3n

— dani baby 💉🩸 (@txdallass) January 18, 2018
Why do rappers continue to bash the LGBTQ community? Y'all know what you're asking for when you write those lyrics in the studio. You don't sound cool or masculine—you sound a like bitch. If you're "straight" why would you be worried about a man taking another man to his bedroom? pic.twitter.com/SFORduMJxa

— rva's hunni 🍯 (@trapcry) January 18, 2018