The Smithsonian National Portrait Gallery unveiled the official Obama portraits.
Openly gay artist Kehinde Wiley painted President Barack Obama's portrait, seated, amid a wall of greenery and flowers.
Michelle Obama's portrait was painted by Amy Sherald, first-prize winner of the Portrait Gallery's 2016 Outwin Boochever Portrait Competition.
The president's portrait featured a seated Obama with arms crossed in front of lush greenery. "Look at that, I look pretty sharp," the president remarked upon looking at the painting.
"I tried to negotiate less grey hair," said the president. He added, "I tried to negotiate smaller ears, struck out on that as well."
The painting, which features a backdrop of ivy, includes several flowers from Illinois, Kenya and Hawaii which Wiley says charts Obama's "path on Earth through those plants that weave their way to the foreground."
Sherald is another African-American artist known for her unique style, and her portraits also tend to underscore themes of social justice. She often paints black skin tones in gray as a way to take away the assigned "color" of her subjects. Sherald's work is less about realism in composition and more about shape and color; like Wiley, the choice of Sherald ushers in a new era of presidential portrait.
"Amy, I want to thank you for so spectacularly capturing the grace and beauty and intelligence and charm and hotness of the woman I love," President Obama said.
The former first lady said she was thinking about the impact Sherald's work will have on "girls and girls of color."
"They will see an image of someone who looks like them hanging on the walls of this great American institution … And I know the kind of impact that will have on their lives because I was one of those girls," she said.
Wiley, a Los Angeles native, is world-renowned for his portraits of young black men adorned in the latest in hip-hop street style. The artist has painted portraits of influential hip-hop figures such as the Notorious B.I.G., LL Cool J, Big Daddy Kane, Ice T, Grandmaster Flash and the Furious Five, and Michael Jackson, among others.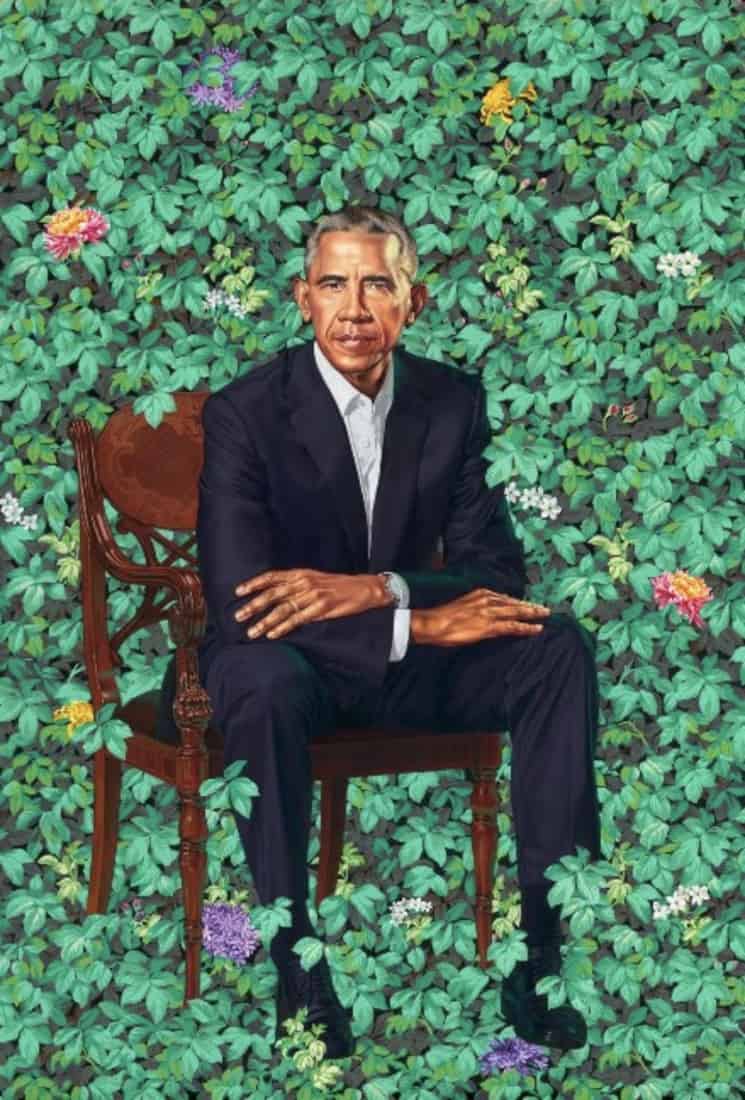 Watch an archived livestream of the proceedings: