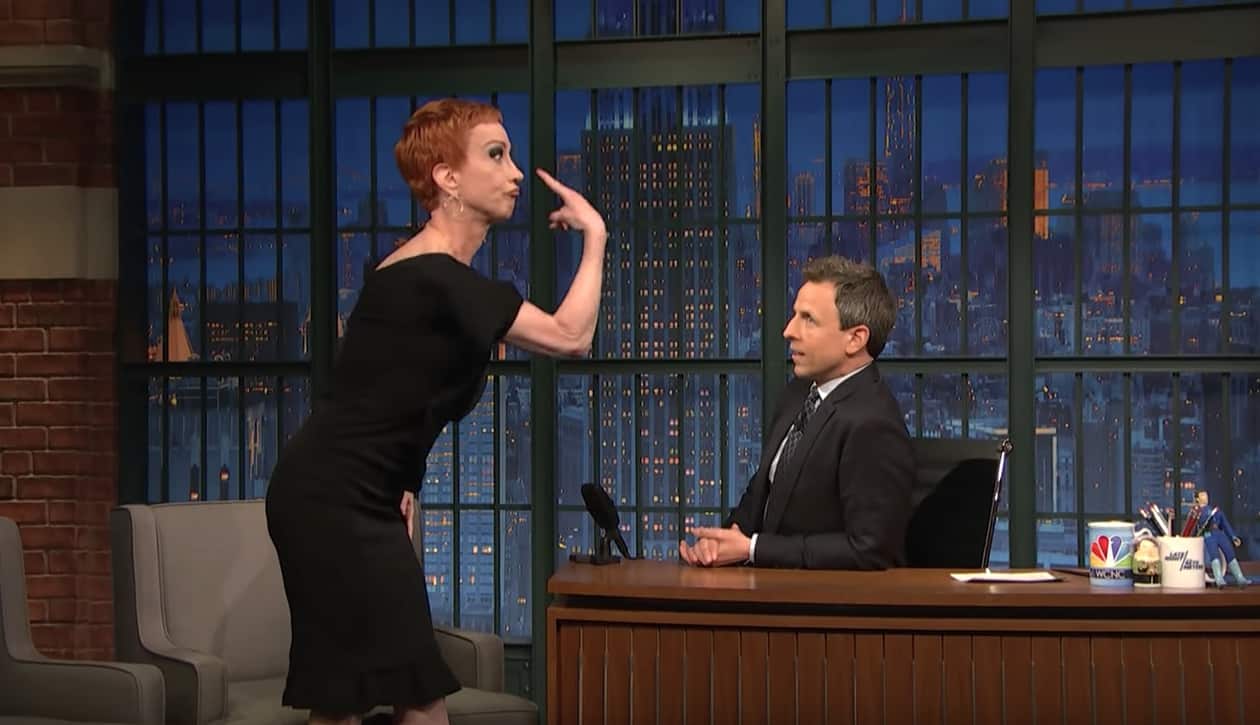 Kathy Griffin appeared on Late Night with Seth Meyers and recapped her night at the White House Correspondents' Dinner.
"I was in the room when it all went down," said Griffin, referring to the Michelle Wolf speech.
"Based on you and Michelle Wolf," said Meyers, "I'm worried he's going to start deporting redheads."
"Oh my gosh, the news today about the doctor?", interjected Griffin, changing gears quickly. "Remember Doctor Bornstein? Now saying that his office was raided because Trump uses Propecia? As if that's all? I'm alleging, I'm alleging. I'm not a scientist."
She added: "I'm a shy flower. I'm a shy flower, now. You know why? I don't have an F left to give. Not one."
Griffin then went on to describe the scene at the Correspondents' Dinner as Sarah Huckabee Sanders got thrashed by Wolf, and her interaction with Sean Spicer, who was seated at a nearby table.
Watch:
https://www.youtube.com/watch?v=V_U9oj-tJ10
Griffin also said Sean Hannity is "obsessed" with her, and keeps tweeting about the severed head photo.
"I wrote to him, and I said 'I don't know if you're going to do very well in jail because, people like you, the rate of recidivism is very high…I've performed in prisons and I'm telling you they would not go for Sean. He's not their type."
Griffin talked about how people reacted to the severed head photo, but said she received encouragement from one comic that inspired her to get back to work..
She said Jim Carrey called her and said, "Kathy, you're the most famous comedian in the world today. Use it."
"I wanted to shame [Trump]. I wanted to shame him."
Watch: