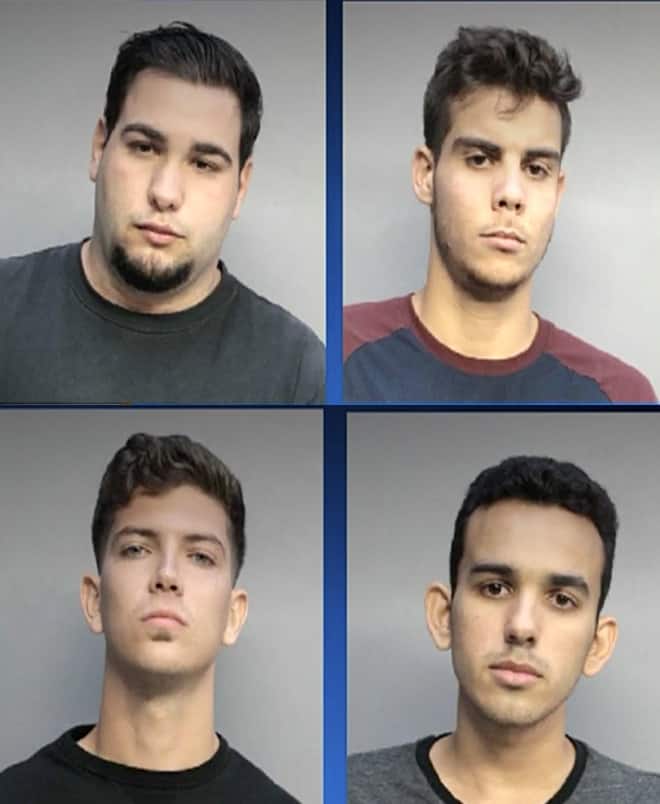 An attorney is trying to get hate crime charges thrown out against four men who beat a gay couple following Miami Beach's Gay Pride festival in May. His argument? One of the men charged in the beating, which was caught on camera, has a gay father.
NBC Miami reports: "Juan Lopez, the father of Juan Carlos Lopez, said that he raised his son along with his partner of 15 years. Lopez said his son and his three friends have never attacked 'any gay people.' 'I'm sure 100 percent of that,' he said, adding that his son respects 'everybody in this community' and that he 'loves LGBT.'"
Hate crime charges, which were added to aggravated battery charges, mean the men would face up to 30 years in prison if convicted.
Rene Chalarca and Dmitry Logunov, the couple, and Helmut Muller Estrada, a good samaritan who stepped in, were violently attacked by the four men. The victims said they were targeted because of their sexual orientation. They said their attackers used gay slurs while assaulting them.
The attackers are identified as (clockwise, from top left) Pablo Reinaldo Romo-Figueroa, 21, Luis Alonso-Piovet, 20, Juan C. Lopez, 21, and Adonis Diaz, 21. The perps turned themselves in after being seen in video and surveillance photos widely shared on social media.
Lopez's lawyer said there was "clearly" not gay animus because Lopez's father is gay: "These kids grew up with their friend Juan – their father has been in a gay relationship the last 15 years. These kids have participated in that – that's at issue."
Watch: