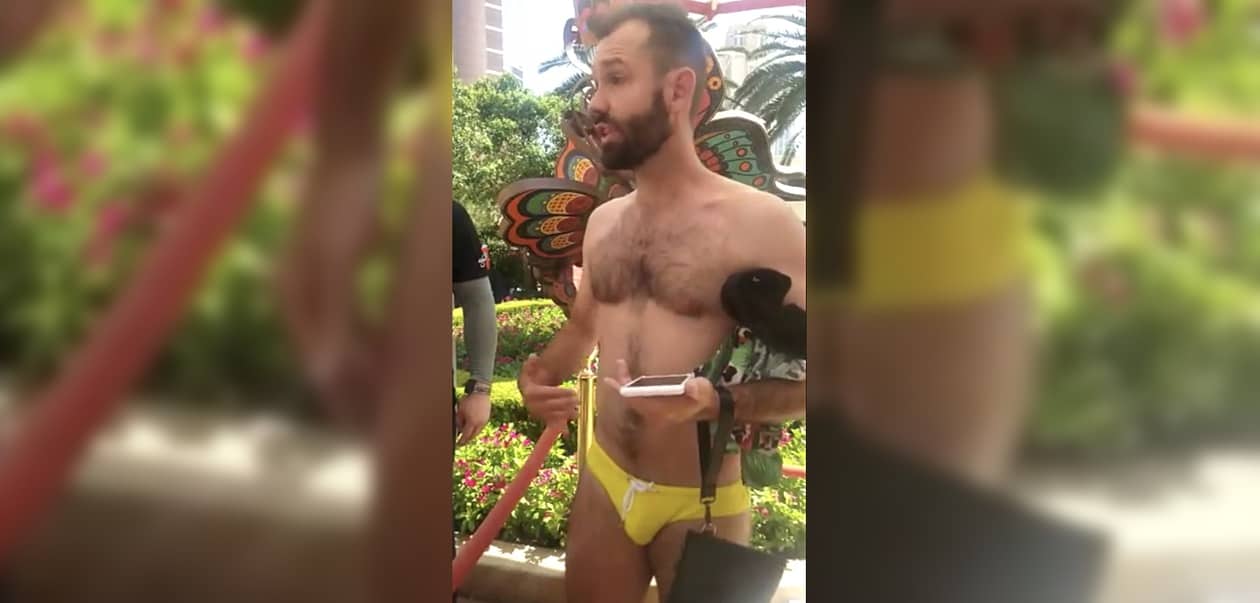 The Encore Beach Club, a Wynn Hotel, kicked Chris Donohoe out of its pool for wearing a Mr. Turk swimsuit, which the hotel manager claimed was not "in integrity" with the brand of the pool party.
Donohoe believes it had nothing to do with the swimsuit: "In other words, I was kicked out for being a gay man wearing a bathing suit that was just a little too gay for the The Beach Club Encore Las Vegas to tolerate."
Encore Beach Club's dress code states: "Dress to impress, no baggy clothing, jeans, or basketball shorts. Pool attire is required to enter the venue. No risqué or indecent swimwear is permitted; management reserves all rights to determine appropriate attire. Proper swim attire includes: Swimming suits."
Added Donohoe: 'Take a look at this video where I'm told that my clothing is not in "integrity" with the pool party brand. This is what homophobia looks like. I was up all night because I couldn't sleep from being so upset. I've cried so much. At the end of the day it is ABUNDANTLY clear that LGBTQ+ people are not welcome at Wynn Las Vegas . Please repost and share this video. I'm going to pursue this to the fullest extent possible until LGBTQ+ people are no longer policed and discriminated against at the Wynn Las Vegas.'
Donohoe talked about the experience in another video he posted later to Facebook.
Said Donohoe: "The thing that really upsets me about this is there were women with their titties out everywhere, which I support and endorse, but as soon as a man shows up looking gay AF they're told 'no, you don't belong here.' Ten minutes before I was removed from the pool there were two men who laughed at me on the deck….two men walking by me laughing at me, pointing and laughing at what I was wearing…and then I'm removed from the pool [at Encore] for wearing inappropriate clothing…meanwhile everyone else is doing what they do in Las Vegas…This is not the place I want to go on vacation. This is not the kind of place I'd ever go to again…If you're a gay man and you're thinking about wearing your fabulous little trunks or brief bathing suits put your money somewhere else, put your money somewhere purple, somewhere pink, because you're not welcome here."
Donohoe also shared another video someone sent him of a man experiencing similar discrimination.
He wrote: "Since posting about how I was discriminated against at Encore Beach Club on Sunday, I've had so many gay men reach out to me with similar stories. This is a video that Juan Casado just sent me where is is literally PUSHED off of a dance platform by a security guard from the Encore Beach Club because only women are allowed to dance on the podium. Juan is also gay. Here's the message he sent me describing his experience: "Hi! I saw your post and I just want to say that I have been discriminated there as well. Not for being gay (even though I am) but the double standard of being male or female. I approached the bouncers and asked if I could dance on the pole but they said no cause I'm a male. I was there for a bachelorette party. Anyways – I really did not appreciate the double standard so I took matters into my own hand." Encore Beach Club when are you going to apologize to me and all the other gay men out there for humiliating us?"