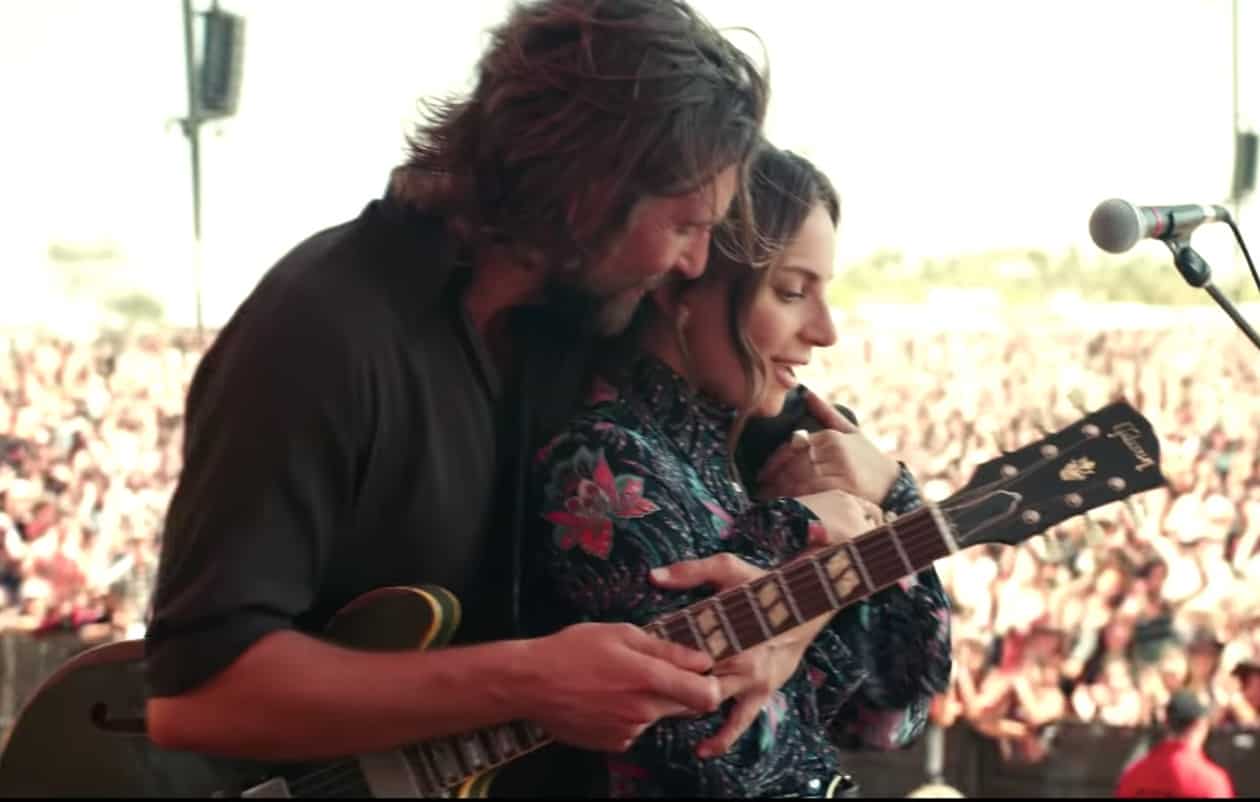 Warner Bros. released four new clips from the Bradley Cooper/Lady Gaga third remake of A Star is Born ahead of its release on October 7. The Cooper-directed film recently premiered at the Venice Film Festival where it generally received glowing reviews. The film first debuted in 1937 with Janet Gaynor and Fredric March. It was remade in 1954 with Judy Garland and James Mason and again in 1976 with Barbra Streisand and Kris Kristofferson.
The film's official synopsis: "In this new take on the tragic love story, he plays seasoned musician Jackson Maine, who discovers—and falls in love with—struggling artist Ally (Gaga). She has just about given up on her dream to make it big as a singer… until Jack coaxes her into the spotlight. But even as Ally's career takes off, the personal side of their relationship is breaking down, as Jack fights an ongoing battle with his own internal demons."
The film also features actors Andrew Dice Clay, with Dave Chappelle and Sam Elliott.
Gaga performs original songs in A Star is Born which she co-wrote with Cooper, Mark Ronson, Luke Nelson, and Jason Isbell. Ronson had a hand in "Shallow" which features in the fourth clip below. Julia Michaels and Justin Tranter co-wrote "Heal Me" and Diane Warren is credited for "Why Did You Do That?" DJ White Shadow co-produced 5 tracks,
The remake has received the blessing of Streisand, who earlier this year told ET: "Oh, I can't say too much. I haven't seen too much, but it's good. It's very, very good."
Here's part of Peter Bradshaw's from The Guardian: "Cooper and veteran screenwriter Eric Roth are clearly inspired most directly by the Streisand/Kristofferson film. But in those closeups that Cooper awards himself, and his huge moments of emotional agony … well, he's channelling a bit of Judy. He certainly de-machos the role, and creates a backstory of vulnerability. Yet the crunch question is: how are Lady Gaga and Bradley Cooper going to reinvent that terrifying award-ceremony scene, when he embarrasses her publicly? Well, the climax of their ordeal is bigger than I ever thought possible. It's the final station of the cross."