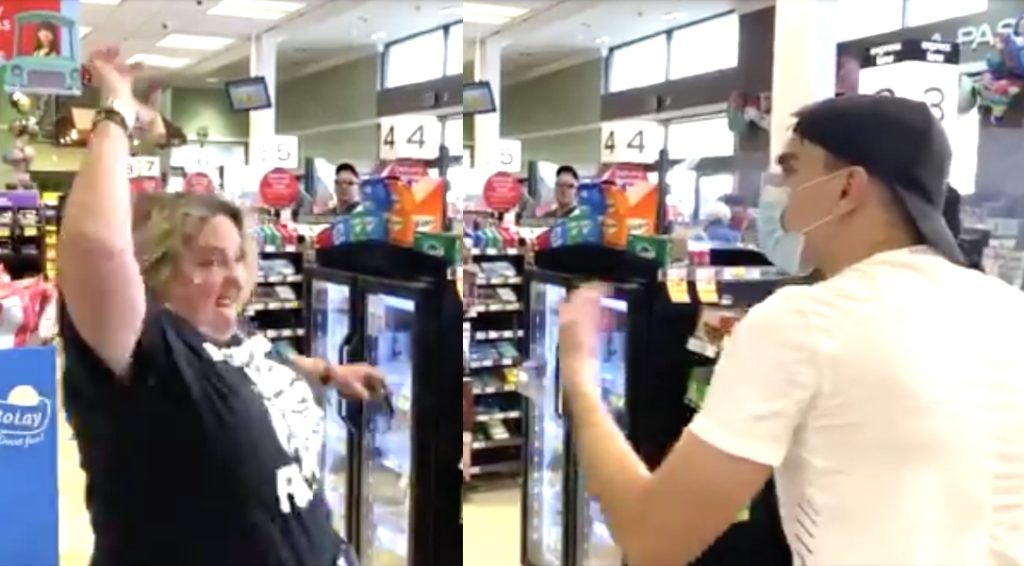 A group of violent anti-maskers stormed businesses in Los Angeles on Sunday, assaulting shoppers and creating chaos. One woman, wearing a "Hey Gavin Newsom, F**K YOU" t-shirt, tried to ram a shopper with her shopping cart before coming at him and kicking him in the checkout lane. She claimed that the customer hit her but the incident was not captured on video.
As the shopper was leaving, the woman yelled. "Somebody hit him. Some guy take care of him out there, come on patriots."
Meanwhile, in other parts of the supermarket, two maskless women were screaming that they weren't in communist China and another man wearing an "All Lives Matter" chin diaper argued with a customer about wearing a mask, calling the concerned customer a "mask Nazi".
The group then hit Bloomingdale's at the Westfield shopping center in Century City and traveled throughout all three floors chanting "no more masks" according to journalist Samuel Braslow, who provided all these clips.
A shopper tried to intervene with the protesters but didn't get very far. That's right before the "Y.M.C.A." dance party started.
After trying to get into the Steve Madden store, the anti-maskers hit the food court to spread more nonsense.
Police arrive but the pandemonium continues: