Massachusetts Governor Mitt Romney enters race: "How is the American family made stronger? With marriage before children. With a mother and a father in the life of every child. With healthcare that is affordable and portable. With schools that succeed. With taxes that are lower. And with leaders who strive to demonstrate enduring values and morality. This was the agenda I pursued as Governor of Massachusetts. This is the agenda I will pursue if elected President." (Remarks)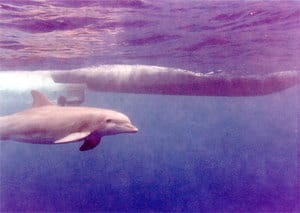 California sea lions and bottlenose dolphins to protect America…from terrorists.

Analyzing the Banksy Effect: "If you're one of those people who are calling Banksy a sellout for selling his work for exorbitant prices, but are interested in making money yourself from your own art, then you should perhaps rethink your views a bit. Here's what we see happening. There are now a lot of people that have money and want to spend it on art. Their entry point into buying "urban art" is now Banksy. They read about Banksy selling his work at Sothebys and they want to be in on the action. But not many can now afford to buy a Banksy piece any more. This is actually a good thing for artists who are talented and want to make money from their art because those people who can't afford 'a Banksy' are now learning more and searching out and buying work from other talented artists who are part of the movement."

Glistening debut: Kate Moss in wax.

Madonna debuts new duds for H&M.

A crying shame: Entertainment Tonight reportedly pays Howard K. Stern $1 million to cry crocodile tears over Anna Nicole on camera. One million dollars.

CNN host Glenn Beck: "[Obama is] "colorless … he might as well be white."

"Who wants to go to war? George Bush impersonates his Iran critics.

John McCain worried war might become unpopular. Ya think?

Media sales manager in Britain wins £118,000 in sexual orientation discrimination case: "Jonah Ditton, from Paisley, was called 'a wee poof' and suffered malicious and insulting abuse on a daily basis from his colleagues. He was sacked after just eight days at his new job after the firm said he was not 'psychologically balanced'."

The High Line: a tour of New York's under-construction public elevated park proves to be very gay.