Gay groups want Florida Rep. Alan Hays out of office. They claim he said that his cousin deserved to die after contracting HIV: "Minutes after the conference, Hays released a statement denying that he told two nurses and a regional manager for a nonprofit AIDS health-care program Wednesday that his cousin was 'queer as a three-dollar bill' and 'had that homosexual lifestyle and deserved what he got.'"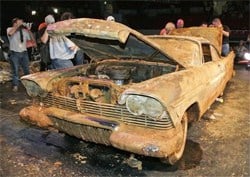 Tulsa, Oklahoma time capsule built to withstand a nuclear bomb is destroyed by rust: "When civic leaders unveiled their freshly-unearthed 1957 Plymouth Belvedere last night in a gala ceremony involving plenty of colorful lights, draped curtains, and Enya-like music, they were no doubt horrified to discover that the car had been reduced to a giant, tailfinned paperweight." (videos)

Rosie O'Donnell to meet with Price is Right producers about hosting gig. Meanwhile, she keeps on going about her time on The View: "I got to tell you, I've been hanging around with those heteros for a full year and it's not fun! Turn around one minute and they'll stab you in the back with a high heel. They will."

Gay killer on hunger strike for his inmate lover in Britain.

As Gay As it Gets: Toronto targets gay travelers with $300,000 campaign.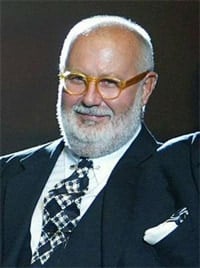 Fashion designer Gianfranco Ferre dies of brain hemorrhage at 62.

Scenes from the Folsom Street East leather-fetish party in NYC over the weekend. NSFW.

Australian man sentenced to nearly five years in prison after lover dies in shoelace sex strangulation: "Late in the night they moved to the bedroom to have sex with Fraser reluctantly agreeing to tie a shoelace around Moore's neck and pull it tight. Justice Anderson said during this activity Moore suddenly collapsed. Fearing Moore was dead, Fraser covered his body with clothing and bedding and left the home. He was caught after the shoelace was found by police and revealed his DNA. Fraser pleaded not guilty to murder at the start of his trial but later accepted a prosecution offer to admit to the lesser offence of manslaughter. Justice Anderson said while he accepted Fraser did not intend to kill Moore, he described the man's conduct was grossly negligent or reckless."

For Father's Day, a selection of celebrity DILFs.

Investigation uncovers "extensive destruction" of RNC emails: "House investigators have learned that the Bush administration's use of Republican National Committee email accounts is far greater than previously disclosed — 140,216 emails sent or received by Karl Rove alone — and that the RNC has overseen 'extensive destruction' of many of the emails, including all email records for 51 White House officials."