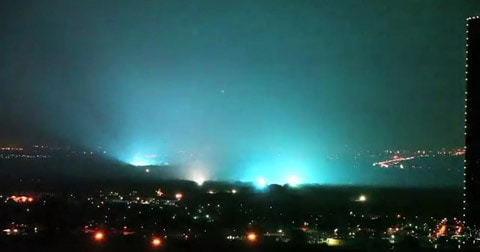 A May 10 thunderstorm set off a chain reaction of transformer explosions in Fort Worth this week that provided a stunning light show.
The videographer writes:
"It was taken from my balcony on the 34th floor of a building in Fort Worth. Though I thought we were at war or was terrorism, it was a massive series of downed 7,200 volt power lines. As I took it with my 70-200 2.8L IS lens, it is farther away than it looks. (it is 5 miles away) That is why there are not explosion sounds. This was a very well documented event. I was on my balcony to take lightning pictures (Yes, not smart) and this started happening in front of me. I turned my camera (Canon 5d MkII) to video mode and let it roll."
Note: the videographer writes that the clip was inadvertantly doubled.
Watch, AFTER THE JUMP…