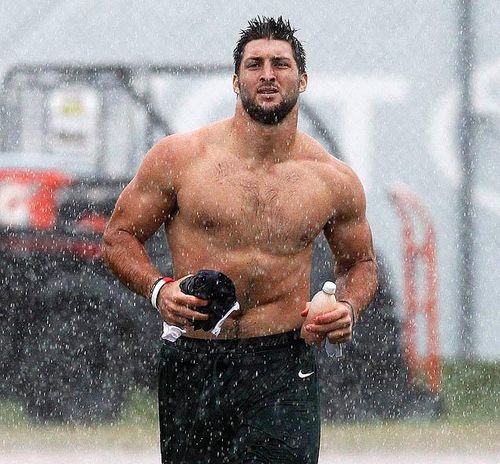 Evangelical athlete Tim Tebow is now a New York Jet and baffled the media by punctuating his public training debut with an "unusual" shirtless run in the rain, something he won't even do in his buttoned-up Jockey underwear ads. The move has put him front and center on every sports page today.
Slowly, he sauntered away, as if "Chariots of Fire" was playing in the background, the only shirtless man around.
It was, if nothing else, a good-looking ending to an unspectacular practice by the famed backup quarterback. He was just 3-for-8 in 11-on-11 drills, numbers hampered by a wet ball and a few drops by receivers, but indicative of his performance as well. He was sacked once, by Aaron Maybin.
When Rex Ryan was asked about the media scrutinizing Tebow's shirtless run instead of his performance on the field, the coach was uncharacteristically speechless for a moment before saying, "I don't know if I'm there yet. No, trust me, I don't want the fans not coming out just in case."
Befuddled, Ryan added, "Who knows? Follow anything you want."
The paper notes that "for the second day in a row, Mark Sanchez was sharper than Tebow," but that doesn't mean he's getting the press's attention. Sanchez was gracious earlier in the week when a member of the press mistook him for Tebow, but he laughed it off, though it quickly became one of the most-watched sports moments of the week.
Watch it and a clip of Tebow's public display, AFTER THE JUMP…