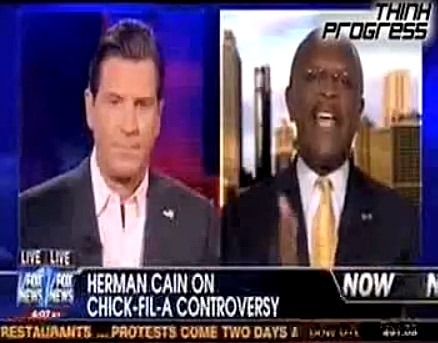 Herman Cain tells FOX News that gay people are protesting Chick-fil-A "since they can't seem to get enough attention. That is what this is all about."
He also said he spoke with President Dan Cathy, who told him that anti-gay groups are about to get a hefty donation, Think Progress reports:
Cain, who claimed that he spoke with Chick-fil-A CEO Dan Cathy, said that the company's sales exceeded $30 million during Wednesday's "appreciation day," "almost twice his previous high." "They are going do take a lot of the excess profits they got on that day and contribute it to the charitable organizations they support in even bigger numbers," Cain added.
Watch, AFTER THE JUMP…