Anti-gay activist Ben Carson joined James Dobson on Family Talk Radio last week to discuss pro-LGBT pastors, reports Right Wing Watch.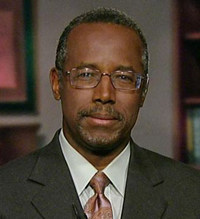 In a bizarre exchange, Dobson, who argued that bisexual people "have sex with males and females at the same time," said:
"If men can marry and if the things that are said about same-sex relationships and marriage and the Bible are misunderstandings, what do you do with the rest of LGBT? What do you do with bisexuality? If one of those is right and proper and holy, what about those who have sex with males and females at the same time? That's called orgies, that's what it used to be called, or just sleeping around with everybody and it doesn't matter. How can a Christian minister who reads the Bible condone that?"
Agreeing with Dobson, Carson argued that same-sex marriage is offensive to God:
"Well, you know, my emphasis is that marriage is an institution established by God himself…So when you start distorting that, you're really going pretty deep into the finger-in-your-eye to God. That's why I have a hard time understanding why ministers are willing to do that."
Last month, English comedian Russell Brand made a video criticizing Carson's homophobic views.
Listen to the exchange between Carson and Dobson, AFTER THE JUMP…