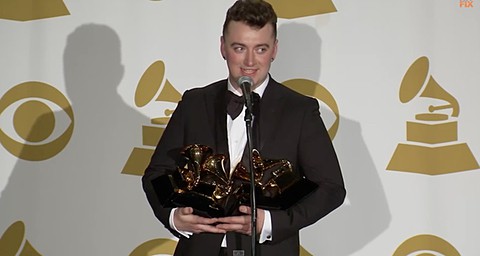 Sam Smith met the press last night coddling his four "f–king heavy" Grammy Awards, explaining that he's been drinking a lot of green juices to get ready for this night so he's ready to go to In-N-Out Burger.
Smith was also asked about the ex he thanked in his acceptance speech who provided the heartbreak which inspired "Stay With Me":
"We're still friends. I chat to him all the time. I'm pretty sure' he's happy."
When asked what could possibly top his Grammy win, Smith said "A boyfriend would be nice."
He took it a bit further when asked what he's looking for:
"Patience. Someone who could clean these every day for me….I don't know what I'm looking for. I think the minute I start looking it's not going to come my way. I think I'm just looking for some crazy love story."
Smith was also asked what it's like for him to suddenly be among the famous:
"As a huge fan of pop culture, as a 22-year-old boy I've grew up watching E! News and being obsessed with celebrity culture. And when you start to meet everyone you start to realize they're just humans, you know? They're just very talented humans. And it's an honor to be sitting with people like that. And I loved sitting next to Rihanna's dress tonight. It was like sitting next to a jellyfish. It was great."
Smith added that he's already working on his next album and that he starts each album with a concept and works from there, explaining that he had the title In The Lonely Hour before any of the songs.
As for why people relate to "Stay With Me"? 
"Everybody's had a lot of one night stands, basically. That's what I'd like to think."
Watch, AFTER THE JUMP…