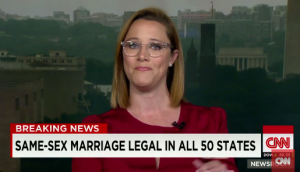 An emotional S.E. Cupp fought back tears on CNN yesterday as she spoke out in support of same-sex marriage, reports Uproxx.                                   
The conservative commentator said that some of her best friends are gay and reminded anti-gay Republicans that gays are "people, not policies, not politics. They're not asking for much. They're asking for what you take for granted."
She added that the GOP is "going to be a relic" that will be on the wrong side of history.
"This is not a moment in history" said Cupp, "this is the future."
Watch Cupp's comments below.