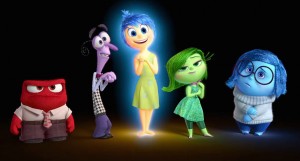 Given that it's Gay Pride weekend and the Supreme Court's historic marriage equality decision changes the course of so many lives going forward and bends that great moral arc of the universe closer to justice, it's probably not the best weekend to attempt to focus on a something as basic as a review. But if you haven't yet seen Inside Out, now in its second weekend, it'd be a great choice between parties. It's all about feelings and who won't be feeling a whole lot of them this weekend? The movie is even rainbow flag ready with color coded emotions! There's red (Anger), purple (Fear), yellow (Joy), green (Disgust), and blue (Sadness). If you haven't yet seen the new Pixar, rest assured that this tearjerking funny adventure which takes place inside an 11 year-old girl's mind as she moves to San Francisco and suddenly feels lost, is a true return to form for the once nearly flawless movie studio (Cars?!? Never heard of it.) Disney/Pixar even saved some of the movies highlights for the actual movie theater and DIDN'T give away the best stuff in the trailer. Can you imagine?
This weekend also brings us to the end of June, which neatly cleaves the calendar year in half. Since Inside Out won't be leaving anyone's "HQ" (i.e. their brains) anytime soon after seeing it, let's use Pixar's anthropomorphic rainbow to recap highlights and a few lowlights of the movie year thus far.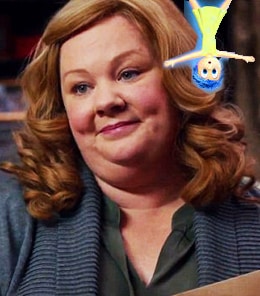 JOY (Amy Poehler) 
"Joy" is someone you definitely want around but one of the most insightful things about Inside Out is that it realizes that she can't function in a vacuum; other emotions have to be allowed to run their course. Ever notice how forced cheer reeks of flopsweat and desperation. A lot of movies do this, actually, pushing their emotional beats so forcefully that it all feels way too synthetic. In this "try-hard" category this year we might well include The Avengers: Age of Ultron (reviewed) and Hot Pursuit (reviewed) which are trying so hard to be wildly exciting and outrageously hilarious respectively that they end up feeling slightly mechanical or entirely shrill. But that's the dark side to joy. The year's five best mainstream pictures (thus far) provided plenty to be giddy about: Cinderella's (reviewed) stunning technicolor costumes and rich sets were sweet sweet eye candy; a fascinating screenplay and inspired performances made Ex-Machina a provocative wonder; Mad Max Fury Road's startling energy, feminist chutzpah, and brilliant craftsmanship made it a grander movie than anyone could have reasonably expected it to have been; Paul Feig directing Melissa McCarthy and Rose Byrne (Bridesmaids reunion!) captured comic lightning bottle for a second time with Spy, easily the year's funniest picture; and Inside Out… well enough about Inside Out. "Joy" is already too proud of herself.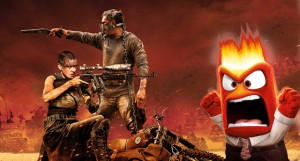 ANGER (Lewis Black)
Pixar's version of anger is easily extinguished outrage as when he spots a pizza with broccoli on it… "congratulations San Francisco you've ruined pizza!". Like a celebrity twitter outburst, quickly deleted, it's relatively harmless. The movies haven't been too maddening this year but my temper did flare up momentarily during 50 Shades of Grey (reviewed) dull cock-teasing, or at the stupid way Julianne Moore's witch still had red hair when she turned into a dragon (oy!) in Seventh Son, or seeing the great beauty Gugu Mbatha-Raw marred by stupid prosthetic ears in Jupiter Ascending, or that moment last month when I realized that I still had to wait four weeks to see Magic Mike XXL. The struggle is real… but almost over.
FEAR (Bill Hader)
Since Hader does the voice work, let's just say that we fear he might never get a role as good as the one he has in The Skeleton Twins again. (But that was 2014, moving on.) We all have our movie blocks — mine is horror which I avoid like the plague — but I felt genuinely terrified during Mad Max Fury Road (which reminds us that practical real stunt work is way more exciting than CGI battles) and especially during '71 (reviewed), a little seen thriller starring 2014 breakout Jack O'Connell (Unbroken). He plays a soldier lost in a violent neighborhood during The Troubles in Ireland. The movie is well crafted, continually jarring and urgent, and never lets up. Highly recommended on DVD!
But mostly movie fears should be reserved for the great work audiences keep missing due to the inequities of the distribution system and the laziness of moviegoers. The year's best limited releases (besides '71) made a lousy between them at the box office this year. They aren't to be missed but everybody did: Appropriate Behavior (reviewed) is a hilarious biting ultra specific LGBT comedy about a bisexual Iranian American who self sabotages in relationships; Argentina's Wild Tales (reviewed), Sweden's A Pigeon Sat on a Branch Reflecting on Existence  and Iceland's Of Horses and Men are all complete absurdist comedy originals and therefore difficult to describe but if you're feeling adventurous, seek them out or "save" them on Netflix for whenever they're available; and finally Clouds of Sils Maria paired Juliette Binoche as an international movie star in self reflective crisis (essentially Binoche playing a sly not-always flattering version of Binoche) with Kristen Stewart as her patient assistant is an absolute must for fans of either actress or acting in general. Stewart really wows now that she's freed from the doldrums of vampire franchises and she won the Cesar (the French Oscar) for this performance.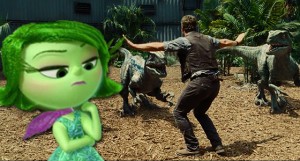 DISGUST (Mindy Kaling)
If you're unclear as to why Pixar thinks of "Disgust" as a primary emotion, join the club! Pixar doesn't even seem to know why they chose that one since Kaling doesn't have much of a role in the movie. But if we're talking pulling faces, rolling eyes, and general annoyance look no further than Jurassic World which has rapidly become one of the top grossing films of all time despite offering very little to recommend itself with. It is in every conceivable way beyond Chris Pratt's body hugging clothing, a lesser film than Jurassic Park (1993) and it's shamefully feeding on our collective nostalgic love for that one (here's my primary memories of that first trip). More maddening still is that it is basically exactly that movie again only without Steven Spielberg's ace direction and with several downgrades. You can see every death and every plot turn coming for miles (who needs maps of the Isla Nubar at this point?). And trading Laura Dern's brilliant warm scientist for Bryce Dallas Howard's high heel wearing corporate ice queen is about as much of a downgrade as you can imagine in the gender politics department.
SADNESS (Phyllis Smith) 
"Sadness," wonderfully voiced by Phyllis Smith, is Inside Out's secret weapon and she's also the key to its brilliance. Pixar understands the catharsis of a good cry and they aren't afraid of it. The year's best wet-eyed moments at the movies in 2015: The ending of the indie drug addiction drama Animals; the swoony romantic denouement of Far From the Madding Crowd — though how it took so long for Carey Mulligan to realize that Matthias Schoenaert is the ultimate dreamboat is beyond my understanding; Listening to Anna Kendrick's do justice to the brilliant song score of The Last Five Years (finally a contemporary movie star who can actually sing musical scores!); and basically the entire second half of Inside Out .
*sniffle*
What? No I'm fine. Really I'm fine. I've just got a little Pixar in my eye is all.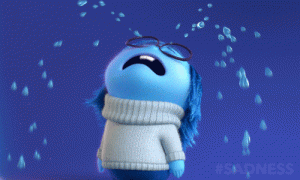 Nathaniel Rogers would live in the movie theater but for poor internet reception. He blogs daily at the Film Experience. Follow him on Twitter @nathanielr.