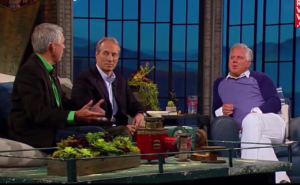 Hoary old homophobes Glenn Beck (above right) and David Barton (above left) joined forces earlier this week to warn about the catastrophe anti-gay Christians face if SCOTUS rules in favor of same-sex marriage, reports Right Wing Watch.
The Christian activists went overboard on the fear-mongering, saying that if same-sex marriage becomes legal, churches will be stripped of their tax-exempt status, people will lose their jobs for attending an anti-gay church and the bible will be outlawed as a "hate book."
Barton went on to egregiously claim that the the legalization of same-sex marriage will lead to pedophilia gaining legal protection.
Recently, regular sparring partners Barton and Beck argued that the government has a moral duty to ban homosexuality.
Watch the discussion below.
https://www.youtube.com/watch?v=HOIpQ1wSIhI