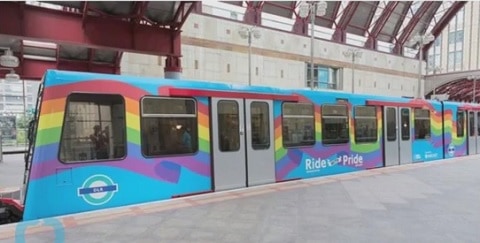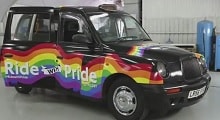 The transport authority in London, England has made over a train in rainbow colors as part of this weekend's Pride celebrations, reports Pink News.
Martyn Loukes, Chair of Transport for London's (TfL) LGBT staff group OUTbound, said:
"The wrapping of the [Docklands Light Railway] train completes a trio of our rainbow themed projects this year to celebrate London's diversity.

"We're extremely grateful that Barclays [bank] has paid for the train to be wrapped in our iconic design. This is another great example of two organizations working together to celebrate their LGBT staff and customers."
Mark McLane, Barclays' Global Head of Diversity and Inclusion, added:
"The financial sector continues to make great strides in embracing diversity and what better way to celebrate this than with a Pride-themed train running between London's two financial centers, Canary Wharf and the City. We're delighted to be helping Londoners support Ride with Pride."
Last year, the city rolled out a rainbow crossing for Pride.  Earlier this year, TfL gave a pride makeover to a London bus and a black cab.
The train came into service on Monday and will run until later this year.
https://www.youtube.com/watch?v=srKnNGFn-xI