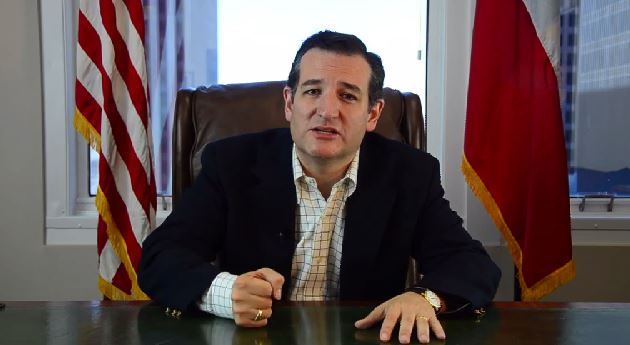 Sen. Ted Cruz's temper tantrum over the U.S. Supreme Court's ruling in favor of same-sex marriage is showing no signs of letting up.
Sunday, we told you how Cruz said he believes county clerks can opt out of issuing same-sex marriage licenses if they have religious objections. And last week, we mentioned how he called the high court's marriage equality and Obamacare rulings "some of the darkest 24 hours in our nation's history," and said he wants to throw out justices who were in the majority. On Sunday, in an interview with "Morning Edition" host Steve Inskeep, Cruz reiterated his call for retention elections for Supreme Court justices.
Cruz also said same-sex marriage and "religious liberty" will be "front and center" in his presidential campaign. And even though he went to Harvard, he slammed Supreme Court justices for being "elites" who all went to Harvard and Yale. From The Washington Times:
"The court's views are radically out of step with public opinion," Mr. Cruz told NPR's Steve Inskeep. "Justice [Antonin] Scalia, in his dissent, he powerfully pointed out: These are nine lawyers. They all went to either Harvard or Yale law school. There is not one single evangelical Protestant on this court."

"These are all elites on the I-95 Acela corridor," he continued. "I agree that the Supreme Court follows the opinions of Manhattan and Washington D.C., but it doesn't follow the opinions of America."
On Monday. Cruz told "TODAY" that justices who ruled in favor of same-sex marriage and Obamacare "rewrote the Constitution" and "violated their judicial oath."
Finally, Cruz defended his comments last month, when he accused the media of being "obsessed with sex" in response to a reporter who asked whether he has animosity toward gay people. In an interview with Fox News media analyst Howard Kurtz on Sunday, Cruz said:
"There is a reason for answering as I did.

"There's a trap in politics that when someone denies something — when Nixon says 'I am not a crook,' everyone says, 'he's a crook,'" Cruz continued. …

"I wasn't going to give him that attack headline," Cruz said. "That question was designed to get me to deny it, so then he could run as the headline, 'hahaha,' he denies this."
Watch a clip from the Fox News interview below.
https://www.youtube.com/watch?v=dmoXSTU7JL4