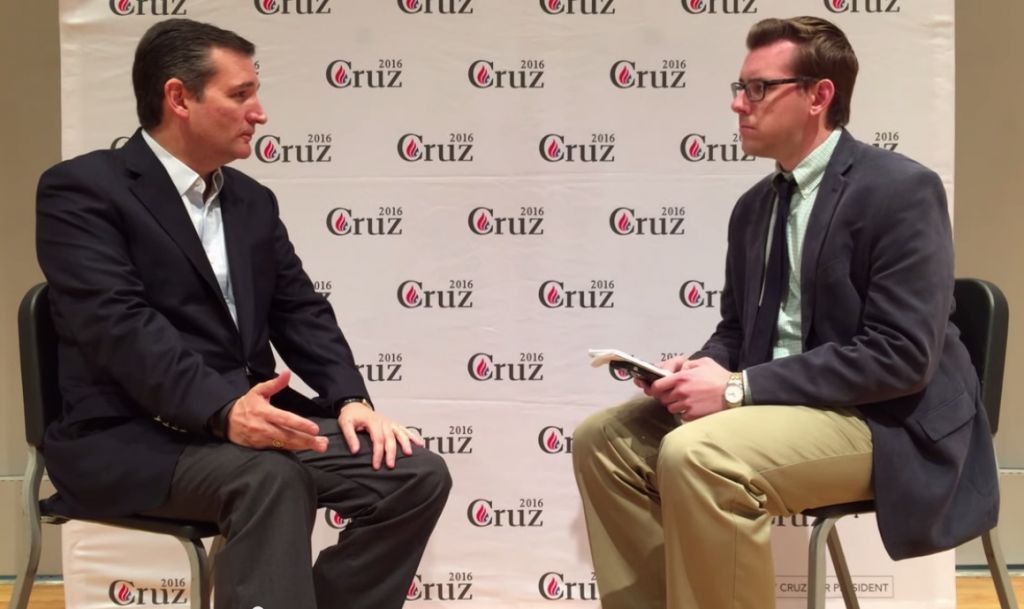 Sen. Ted Cruz says county clerks should "absolutely" be allowed to opt out of issuing marriage licenses to same-sex couples.
Cruz made the comments in an interview in Iowa with The Texas Tribune on Saturday— a day after he proposed throwing out Supreme Court justices who ruled in favor of marriage equality:
"We should respect diversity and tolerance," Cruz added. "There is this liberal intolerance and fascism that seeks to force Bible-believing Christians to violate their faith, and I think it makes no sense.

"There's no right in society to force a Jewish rabbi to perform a Christian wedding ceremony," Cruz said Saturday. "There's no right in society to force a Muslim imam to perform a Jewish wedding ceremony.

"We shouldn't have this intolerance that we're seeing manifested over and over again from those on the far left that are trying to persecute Bible-believing Christians."
Likewise, there's no right to force any clergy member to perform a same-sex marriage against their will. Needless to say, though, county clerks are a different story.
Back in Texas, county clerks in all of the state's six largest cities were issuing licenses to same-sex couples. Others were still awaiting guidance from Republican Attorney General Ken Paxton, which he had not issued. However, the Vital Statistics Unit has now updated marriage license application forms, which should eliminate one of the excuses being used by county clerks.
The Denton Record-Chronicle tells the story of one gay couple that was denied a license in Denton County, north of Dallas, on Friday. Casey Cavalier and Tod King have been together 19 years and recently adopted a son:
"I try to be understanding," Cavalier said. "I try to put myself in their shoes sometimes and try to understand where they come from.

"But I just don't understand using the Bible to oppress people. I like the Jesus who wears sandals and hangs out with the poor. That's the Jesus I know. Some Christians just cast a lot of stones."

"Marriage equality is not a take-away from anyone," King said. "If people don't like gay marriage, then don't gay marry."
The Austin Statesman spoke to Sanford Levinson, a law professor at the University of Texas, about the issue of clerks refusing to issue licenses to same-sex couples:
Levinson pointed to the supremacy clause of the U.S. Constitution, stating that the Supreme Court's ruling makes any forthcoming opinion from Paxton irrelevant.

"The Supreme Court said — as clearly as it could possibly say it — that Texas is violating the constitution by denying same-sex couples the right to marry," Levinson said. "It doesn't matter what Greg Abbott and Ken Paxton have to say about it. They lost, 5-4."
Watch video of Cruz's remarks below.