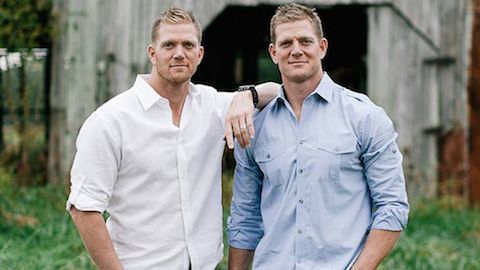 Writing on wingnut rag WorldNetDaily yesterday, anti-gay activists and former TV hosts the Benham brothers have said that religious liberties in the U.S. are "in the cross-hairs of the militant, secular agenda" following the SCOTUS ruling on same-sex marriage.
With their "persecuted" Christian faith under fire, the Benhams argue that those "riding the fence" on gay rights – a structure to which they claim the devil has exclusive rights – must now choose a side because "you can't stand strong on top of a fence."
Blaming their rambling outburst on satan because "that's how the devil works," the brothers continue:
"God's purification of our faith is nothing new. Believe it or not, millions of Christians before us have suffered persecution – or pressure, like we have in America – and God is still God, we are His children. So our Father will take care of us. All we've got to do is be faithful and willing to stand.
"A few biblical men show us the way forward, and their stories actually reveal something quite similar to what we may experience in America soon. As they stood firmly on God's side of the fence, the nation where they were living turned against them quickly.
"Throughout history…believers in God have been forced to bow to godless agendas/decrees/ordinances/laws, yet they've refused, and suffered intense persecution.
"At the same time people of faith have been forced not to bow to God/His boundaries/His laws/His words – yet they chose to bow in reverence and faced the fires of persecution as well.
"Either way, persecutors want God's faithful to be obedient to man, not God – to bow or not to bow, depending on the circumstances.
"And their easiest targets are the fence sitters.
"So if you find yourself straddling the fence, please move to God's side and trust that He's got your back. We have nothing to fear, and we can't forget that Jesus is in heaven speaking about our courage to the Father."
Last year, the Benhams compared themselves to victims of ISIS beheadings.
Watch the brothers complain that they lost their jobs as part of "an agenda that seeks to silence men and women of faith" below.