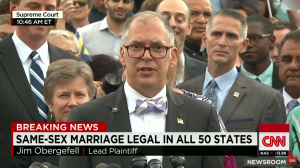 20th Century Fox has announced plans to make a movie about the SCOTUS ruling legalizing same-sex marriage, reports The New York Times.
The studio announced Tuesday that it had bought the life rights of Jim Obergefell, the lead plaintiff in the lawsuit that led to marriage equality.
Obergefell married his longtime partner, John Arthur, in 2013 in Maryland. When Arthur died, Ohio refused to list Obergefell as his spouse on the death certificate.
Also secured as part of the deal were the life rights of Obergefell's lawyer Al Gerhardstein and a yet-to-be-written book by Obergefell and journalist Debbie Cenziper.
Wyck Godfrey, co-producer of the movie along with Marty Bowen, said it's a "transcendent love story about someone who goes to such a length for love that he ends up changing the world."
Godfrey's recent credits include The Fault in Our Stars, The Twilight Saga, the TV series Revenge and an upcoming remake of horror Martyrs.
The NYT adds a finished film is at least two years away.
Watch vlogger Raymond Braun's recent interview with Obergefell below.