The Jeb Bush Super PAC has raised $114 million in the first half of 2015 and Bush has raised $11.4 million himself since announcing as an official candidate, the NYT reports: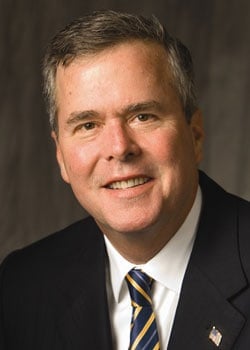 Nearly all of that money was raised by a super PAC, Right to Rise, that Mr. Bush's allies set up in January, and for which Mr. Bush, the former Florida governor, spent much of the winter and spring raising money.
The WaPo adds that "The super PAC had more than 9,900 donors, including 9,400 who gave less than $25,000 each."
Bush's cash hoard tops that of any of his rivals. Ted Cruz's campaign said this week that it had raised $14.2 million since announcing in March and Cruz's Super PAC had raised $37 million for a total of $51.2 million.
Democratic frontrunner Hillary Clinton's campaign said at the beginning of July that it had raised $45 million, mostly in small donations.
As we reported this morning, the first Republican presidential debate is less than a month away and the crowded field of conservatives are pushing and shoving for the coveted 10 spots. See who's likely to get left out here.