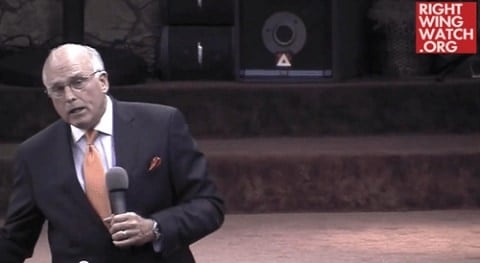 Speaking last Monday in Florida, Rick Scarborough said that same-sex marriage will be the end of the United States and warned that children adopted by gay parents will end up in hell, reports Right Wing Watch.
Scarborough – who you may remember last month threatened to literally set himself on fire if same-sex marriage became the law of the land – made the comments at St. Andrew Baptist Church in Panama City, Florida, as part of the church's weekly "Spiritual Revolution – Reclaiming America" series.
Surely not referring to Scott Lively, he said:
"The reason Satan is trying to destroy this country right now is because we send more missionaries, do more good than any nation in history. But that's all at stake right now because by the act of five unelected judges mandated something upon this country that, for the first time could kill it."
Proving that his brethren can do whatever the hell they like once they follow it with a prayer, he continued:
"Abortion is a horrible thing but you and I can opt out of abortion, we just don't have 'em. If we have 'em we then ask god to forgive us and those babies that have been slain are deposited in heaven for the next life. But when homosexuals begin lining up to adopt those children, they will literally disciple them into an early grave called Hell."
Watch the video below.