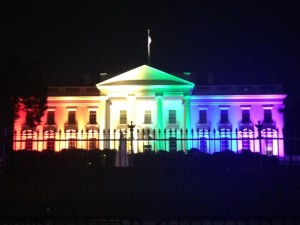 In news guaranteed to have certain anti-gay religious activists apoplectic with rage, screenwriter Jon Lovett has said that he engineered and officiated at a secret same-sex wedding at the White House before President Obama had officially and publicly evolved on marriage equality at the time, reports NCRM.
Speaking at the Aspen Ideas Festival last week, Lovett – known for his work on HBO drama The Newsroom – said that when he was a speechwriter in the White House during Obama's first term, he arranged for his friends to visit on the pretense of a "tour."
"Steve and Justin and I walked through the double doors, into the ground floors of the West Wing, past the Situation Room, down the hall past the offices of the [NSC], up the stairs by the cabinet room and the Oval Office, through the doors of the Colonnade that connect the offices of the West Wing to the stately rooms of the residence, and we turned right down the stone path that jutted into the Rose Garden and then I said, 'Steve do you take Justin to be your lawfully wedded husband? And Justin, do you take Steve?"
"We were very nervous. They were nervous because they were getting married. I was nervous because I snuck into my boss' house to perform a wedding against his wishes in his backyard."
Washington D.C. began issuing marriage licenses to same-sex couples in 2010. Although Lovett left the White House at the end of 2011, President Obama did not officially come out in favor of marriage equality until 2012. Following that timeline suggests that the wedding took place at the end of 2010 or sometime in 2011 before Lovett departed the West Wing.
Lovett shared this latest news in the wake of the Supreme Court's ruling on same-sex marriage. He also used the occasion to troll Justice Scalia on Twitter (below).
https://twitter.com/jonlovett/status/614469815210770432
Watch Lovett speak at the Aspen Ideas Festival below.