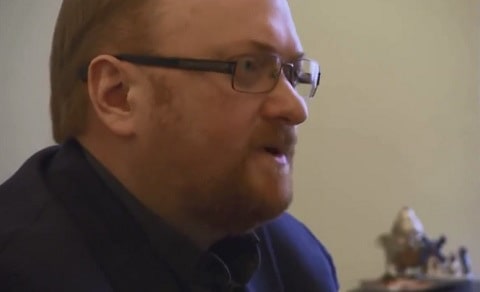 He's previously sought to ban shirtless men in public, "Game of Thrones," Facebook, Apple CEO Tim Cook and Tom of Finland stamps.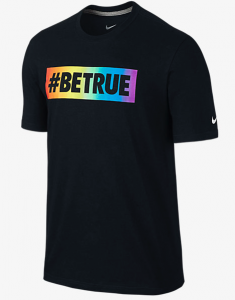 Now, notorious Russian bigot Vitaly Milonov is setting his sights on Nike's annual summertime #BeTrue campaign. Milonov, a city official in St. Petersburg, says the display and sale of #BeTrue apparel should be banned in Russia because it violates the country's 2013 ban on "gay propaganda," of which he was the architect.
From The Moscow Times:
The collection, which features rainbow-themed merchandise, "celebrates the LGBT community and the universality of sport," according to the Nike website. …
In an interview with Izvestia, Milonov said that Nike is particularly dangerous because its "perverted values" are part of a soft-power campaign aimed at teenagers, who are especially susceptible to advertising messages.
Interestingly, Nike's #BeTrue apparel, which it has marketed every year since 2012, isn't even for sale in Russian stores, and can only be obtained through the company's American website. However, a Nike salesperson said he believes the #BeTrue campaign would be popular in Russia:
Representatives of Nike Russia told Izvestia: "Nike does not discriminate, based on sexual orientation, sex, nationality or age. Nike supports social and cultural diversity and seeks to deliver inspiration and innovation to every athlete in the world. In Russia, Nike does not request inclusion of any particular products or collections form its partners. The stores decide themselves, which products they want to stock."
Meanwhile, in Milonov's hometown of St. Petersburg, police detained gay activists Sunday after they held pickets in support of gay rights on a Russian military holiday. The Associated Press reports:
Yuri Gavrikov, the leader of a gay rights group, was quickly rounded up by police as he left his home to hold a one-man picket in front of the Hermitage Museum.
Police accused him of cursing on the street, which he denied. Gavrikov was held at a police station pending a court hearing.
Veterans of Russian Airborne Forces confronted several other gay activists, who held individual pickets near the Hermitage, and tore up their posters. Police quickly took the gay activists away.