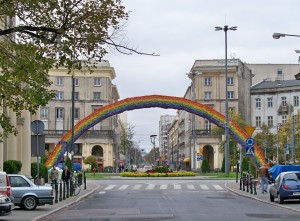 Warsaw's iconic (and controversial) Tęcza rainbow, which was a tourism highlight and symbol for the LGBT community in Poland, was taken down last night after city authorities declined to extend it's contract in Savior Square.
The AP reports:
The six-color, 9 meters (30 feet)-high rainbow by artist Julita Wojcik started in 2010 as half-arch supporting calls for renovation of an old cloister in Wigry, in Poland's lake district. A full rainbow, it advertised Poland's 2011 EU presidency in Brussels. […]
Wojcik told The Associated Press that her objective was to provoke a debate as the rainbow stands for gay rights, but also for cooperation and harmony. […]
"There is no better place for the rainbow than the Savior Square," Wojcik said.
On the country's National Independence Day in 2013, the arch was set on fire by right-wing groups.
(photo via Wikipedia)