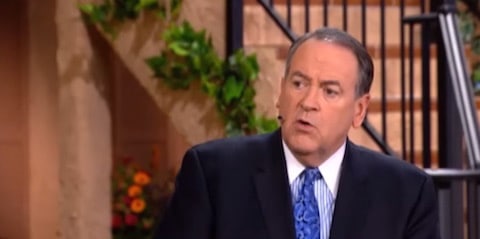 Hoping if he ignores it it will go away, GOP presidential hopeful Mike Huckabee has said that he will never call same-sex unions "marriage" because "marriage does have a definition and that's not it," reports Right Wing Watch.
Huckabee was replying to a question posed on a Google hangout with conservative activists. When asked by pro-slavery pastor Douglas Wilson – who once suggested that gay people should be exiled – what he could do to stop the victimization of Christians, Huckabee said:
"The agenda here is not simply to have the freedom for same-sex relationships called marriage, I refuse to say that that's marriage because marriage does have a definition and that's not it. The assault is on something deeper than just the institution of marriage."
Predicting that same-sex marriage will lead to the persecution of Christians, he added:
"I'd love for the Department of Justice to be sent in to defend [Oregon bakers] the Kleins against an outrageous attack on their religious liberty."
Clearly obsessed, he went on to say that elected officials should defy the Supreme Court's ruling on marriage equality.
Watch Huckabee's comments below.
[vimeo 136115330 w=480 h=270]