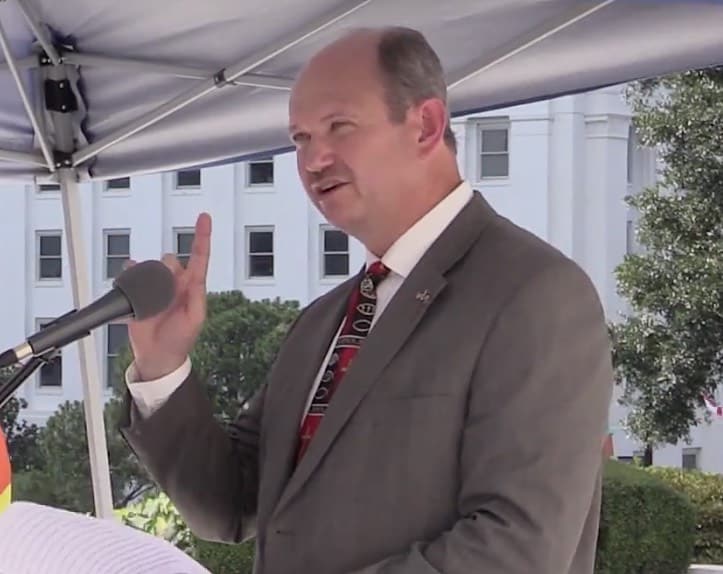 Washington County, Alabama Probate Judge Nick Williams asked the Alabama Supreme Court on Wednesday to issue an order protecting those who won't marry gay couples or issue marriage licenses to gay couples based on their religious beliefs, AL.com reports:
Williams filed the petition for declaratory judgment or protective order in light of the recent jailing of a Kentucky clerk for refusing to issue same-sex marriage licenses.
"The jailing of Kentucky clerk Kimberly B. Davis put at immediate risk the liberty interest of all faithful and religiously sincere public officials in Alabama whose office has responsibility for making decisions as to whether to give sanction and honor to homosexual relationships to include the issuance of a license to engage in sodomy," according to the petition filed on Williams' behalf by Montgomery attorney Jack B. Hinton.
The ACLU says there's no reason Williams needs protection:
Randall Marshall, legal director for the ACLU of Alabama, said that Williams' filing mis-characterizes the current threat to Alabama probate judges. No Alabama probate judge currently faces a lawsuit for failing to issue a license, so the judges aren't in any immediate risk of violating a court order, he said.
"Needless to say from our perspective this (Williams' filing) is the dying gasp of a probate judge.  … If public officials don't want to do their jobs then they don't need to be public officials," he said.
A small group of Alabama probate judges have been fighting same-sex marriage since January when a federal judge struck down the state's gay marriage ban.
Since then, of course, the U.S. Supreme Court legalized same-sex marriage nationwide.
Williams attacks SCOTUS in his filing.
"Clerk Davis would not have been placed in that position had a bar majority of five justices on the United States Supreme Court not chose to substitute their own will as superior to the written United States Constitution, the will of the people as expressed in more than 36 state constitutions, and the common wisdom of our forebears in more than 220 years of American history, and millennia of our Anglo-Western heritage."
Williams at an Alabama for Marriage Rally in June: