The University of Washington this week named Ana Mari Cauce as its president. Cause is the first woman, first openly gay person, and first Latina to hold the position.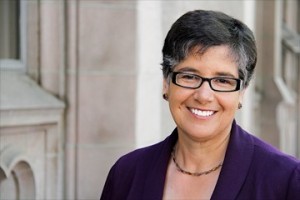 Said Cauce:
"I am grateful to the Board and to the search committee for the confidence they are placing in me to lead this amazing University. We have assembled here one of the great faculties of any university on Earth, and we attract the most ambitious and remarkable students. They come here to study and learn. They transform their lives and, we hope, the lives of others. I am immensely proud of who we are as a University — one that is dedicated to access and excellence. These values are the hallmark of what it means to be a great public university, and I am thrilled at the prospect of how much more we can do for our students, for the state of Washington, and for people around the world whose lives we touch in some way."
UW reports:
The search for the UW president began last spring with the appointment by the Board of the Presidential Search Advisory Committee, chaired by Chancellor Emeritus Kenyon Chan and comprising 28 individuals representing all segments of the University community and its supporters: five students, six faculty members, six administrators/staff, six community leaders, and four Regents. The Regents engaged Witt/Kieffer Search Consultants to assist in the search.