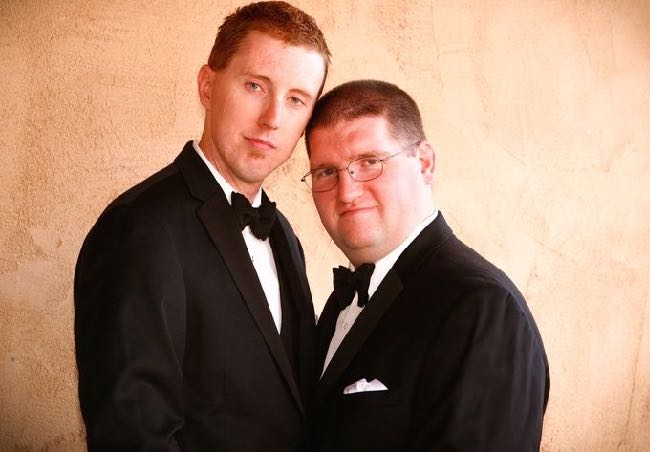 Jay Stone-Hoskins, the gay widower who forced Texas to provide accurate death and birth certificates to same-sex couples, died Saturday, according to a close friend.
Jeremy Liebbe, executor and trustee of the estate, reported on Facebook that Stone-Hoskins, a 37-year-old former police officer who'd been diagnosed with terminal cancer, died in his sleep sometime between 4 a.m. and 10 a.m.
"It is with a heavy heart I report that Jay Stone-Hoskins passed away yesterday morning," Liebbe wrote Sunday. "After publicly fighting a legal battle to legally validate his marriage while privately fighting his own personal health battles, Jay has rejoined his one true love James Stone-Hoskins."
In the wake of the U.S. Supreme Court's ruling in Obergefell v. Hodges, Jay Stone-Hoskins filed a lawsuit against Texas Attorney General Ken Paxton and the state after he was denied an accurate amended death certificate for his late husband for six weeks. James Stone-Hoskins took his own life in January after the couple married in New Mexico last year.
In response to Stone-Hoskins' lawsuit, a federal judge threatened to hold Paxton in contempt for defying the high court's decision. But before a contempt hearing could be held, the state issued an accurate death certificate to Stone-Hoskins and agreed to treat same-sex couples equally going forward with regard to all vital records, including birth certificates.
"I literally don't have the energy to do anything, but this fight is what's kept me going," Stone-Hoskins told Project Q Houston in August. "If this is the last battle I'm ever engaged in, I hope that it is successful and nobody has to go through the torture that I've been through, and that torture was caused by the state."
Neel Lane, the attorney who represented Stone-Hoskins in the lawsuit, also took to Facebook to remember his client.
"Whatever the doctors say, I will always believe he died of a broken heart," Lane wrote. "In his last days, he told me how happy he was that he helped secure relief to thousands of Texas residents who sought amended death certificates and birth certificates that recognized their marriages."
Stone-Hoskins also made headlines following Stone's death when he alleged that churches in his husband's hometown of Mountain Home, Arkansas, refused to conduct his funeral service.