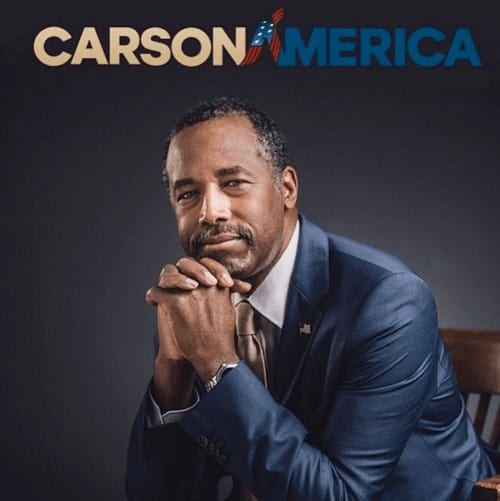 Ben Carson's campaign today responded to questions about a centerpiece of the personal story he has been repeating for years — that he applied and was accepted to the prestigious West Point U.S. Military Academy on a full scholarship.
The news, broken by Politico, follows recent questions about the veracity of some of his other statements – most notably stories about a violent childhood and the stabbing of a close friend. "It is just garbage," Carson told CNN recently about the speculation that he has been lying.
"In repeated references to West Point over the years, Mr. Carson has strongly implied that he had a standing offer to attend," the NYT reports.
That does not appear to be the case. The new revelations should be problematic for Carson to say the least.
According to a story told in Carson's book, "Gifted Hands," the then-17 year old was introduced in 1969 to Gen. William Westmoreland, who had just ended his command of U.S. forces in Vietnam, and the two dined together. That meeting, according to Carson's telling, was followed by a "full scholarship" to the military academy.
West Point, however, has no record of Carson applying, much less being extended admission.
There are also no such thing as 'full scholarships' at West Point.
Carson's campaign today released a statement responding to the revelations, Politico adds:
"Dr. Carson was the top ROTC student in the City of Detroit," campaign manager Barry Bennett wrote in an email to POLITICO. "In that role he was invited to meet General Westmoreland. He believes it was at a banquet. He can't remember with specificity their brief conversation but it centered around Dr. Carson's performance as ROTC City Executive Officer."
"He was introduced to folks from West Point by his ROTC Supervisors," Bennett added. "They told him they could help him get an appointment based on his grades and performance in ROTC. He considered it but in the end did not seek admission."
Carson's campaign is furious that Politico is suggesting Carson "admitted" that he lied.
"The campaign never 'admitted to anything,'" Carson spokesman Doug Watts told The Daily Caller.
Said Carson to the NYT in an interview today:
"I don't remember all the specific details. Because I had done so extraordinarily well you know I was told that someone like me – they could get a scholarship to West Point. But I made it clear I was going to pursue a career in medicine….It was, you know, an informal 'with a record like yours we could easily get you a scholarship to West Point.'"