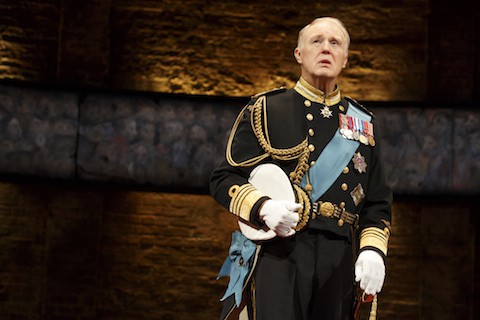 For many of us, princesses and palaces are the stuff of fairy tales: It's easy to forget (and sometimes hard to believe) that royal families still exist outside of storybooks and the pages of People magazine. Mike Bartlett's King Charles III, which opened on Broadway last night at the Music Box Theatre, imagines what would happen if the next successor to the British throne actually tried to exert political power. Billed as a "future history play," Bartlett's drama is Shakespearean in style if not necessarily in depth or substance.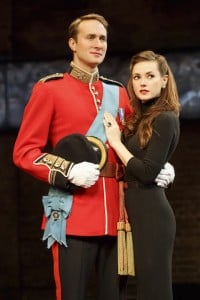 The story begins, like so many dynastic dramas, with the death of the reigning monarch. Charles (Tim Pigott-Smith, a dead-ringer for the prince) is, of course, next in line. Though his coronation is three months hence, it's business as usual and he's already up to bat.
When the Prime Minister asks for Charles' ceremonial signature on a bill that's meant to protect privacy and curb freedom of the press, the newbie King breaks with centuries-old convention in pressing for its revision and ultimately refusing to sign. There is irony (not undiscussed) in Charles' siding with the press given the circumstances of his late wife's death, but his position is intractable nonetheless. Political fallout follows, though it's not all that exciting until the second act.
Along with a misguided, self-important ruler, Bartlett's play is peopled with other familiar characters from the Bard canon, including a dispassionate, rebellious prince (Harry, a spirited Richard Goulding) and a flawed yet noble common girl (Jess, played by Tafline Steen), together the story's two young lovers. Instead of a gravedigger, there's a kebab chef who compares Britain to shawarma. Oh, and don't think the ghost of Diana would miss this for the world.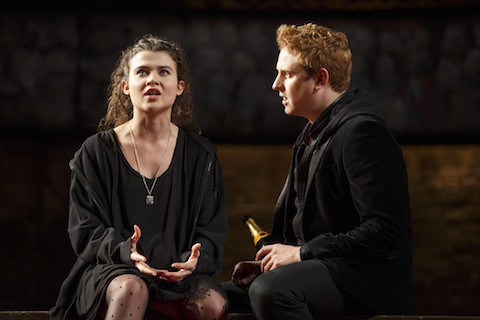 But it's Kate (Lydia Wilson in a standout performance) who's most recognizable and acutely drawn as a new kind of Shakespearean heroine. She has the ambitious will of Lady Macbeth and the measured sense of Rosalind — and unlike most of her predecessors, she isn't demonized for being smarter and more capable than her husband.
While the players are all assembled, the extremities of character, heightened stakes, and twisted plots of Shakespeare's history plays are not quite accounted for. Under the direction of Rupert Goold, the sometimes-plodding story unfolds with minimal fanfare on what looks like a political stage, surrounded by an ancient brick wall painted with a fading crowd of faces.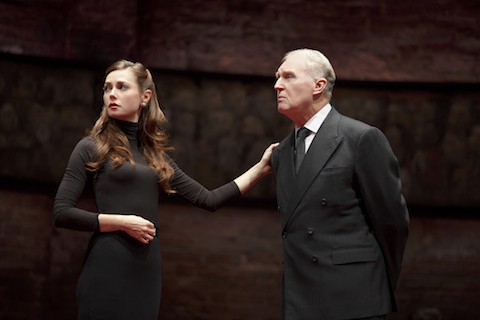 Those of us who don't pour taxes into the coffers of Elizabeth, William, Kate, and co. might regard them as OG celebrities at best, and at worst as vestiges of a time when England thought itself entitled to take over the planet. Originally produced on the West End earlier this year, the play is undoubtedly a wholly different sort of exercise in front of a London audience — a dramatized, dystopian vision of a not completely far-fetched future. Forget what little (or how much) you know about the royal family IRL, and the two-and-a-half hours' traffic of their stage may grow tedious.
Recent theatre features…
Keira Knightley Stars in Stunning Production of 'Thérèse Raquin' on Broadway: REVIEW
Matthew Broderick and Annaleigh Ashford Bring Canine Comedy 'Sylvia' to Broadway: REVIEW
Topher Payne's 'Perfect Arrangement' Takes on Govt's Anti-Gay Witch-Hunt: INTERVIEW
Clive Owen Stars in 'Old Times' on Broadway and 'Cloud Nine' Comes to Atlantic Theatre Co.: REVIEW
'Spring Awakening' Couples Sign Language with Sexual Discovery on Broadway: REVIEW
16 Big Shows Coming to Broadway This Fall: A Cheat Sheet
Follow Naveen Kumar on Twitter: @Mr_NaveenKumar (photos: joan marcus)