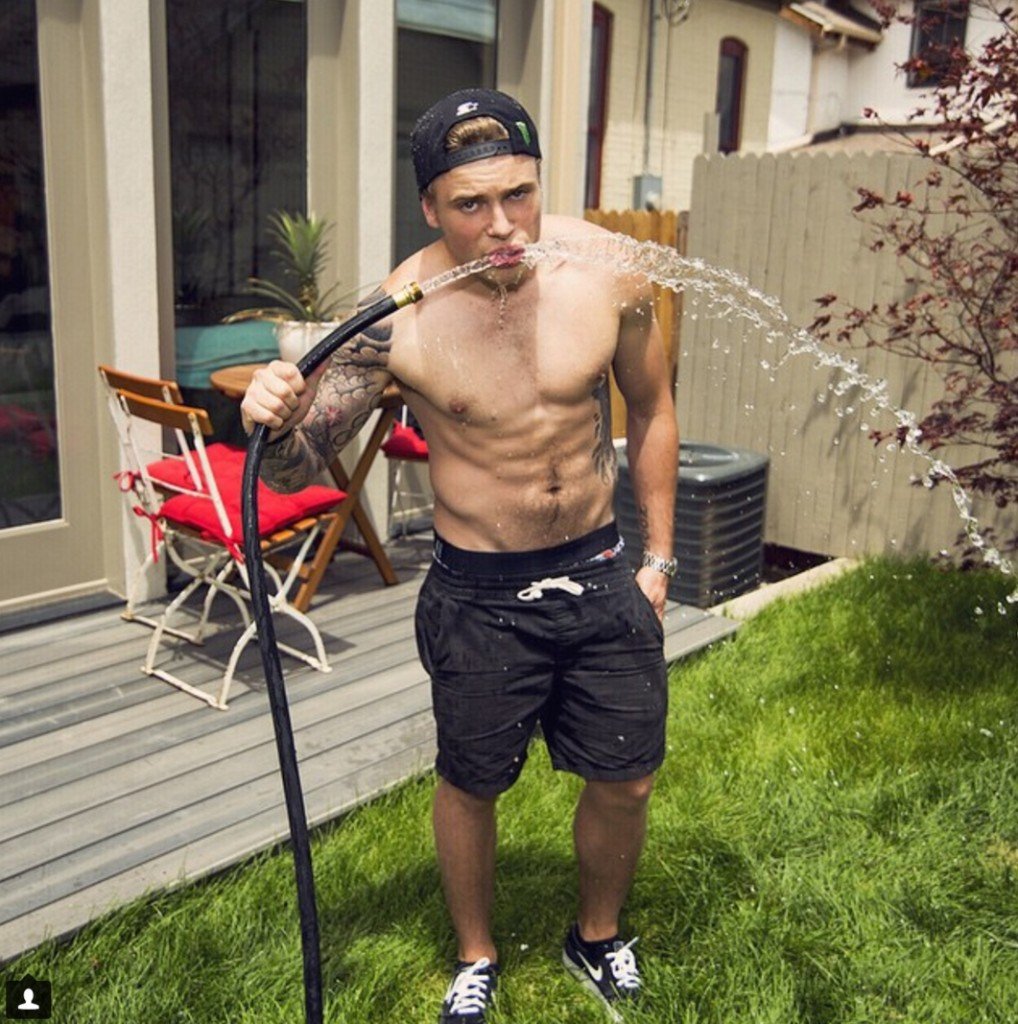 In a new interview, recently out gay Olympic freeskier Gus Kenworthy opened up about his love life, the Sochi Olympics, and, of course, his penchant for being photographed shirtless.
Speaking with Attitude magazine, Kenworthy shared his first memory of being attracted towards men:
I remember going with my family to these hot springs when I was a kid and there was a lifeguard there who was probably in his 20s, who was really fit and had, like, big arms and shoulders, which I hadn't really seen beofre I guess – not in a swimsuit! And I was just like 'Oh my god, what is happening!' [chuckles] But I didn't know whether I was so drawn to it because I wanted to look like that or to have that to myself, but I knew I had this pull, and obviously that got more frequent and stronger as I got older. If I would watch a movie and there was a love interest I'd always be drawn to the male lead, and I knew it was something I wasn't 'supposed' to be feeling so I kept quiet about it. I think it was 16 that I really realise 'this is what I am', but that's also the age I went pro and started travelling a lot, so it was a hard time to accept it. [sic]
Kenworthy also elaborated on previous remarks he made about how he slept with women to keep up appearances that he was straight in the braggadocious world of sport:
In skiing there's this emphasis on who's going to sleep with the most girls this weekend, and I panicked and I ended up doing so many things I didn't want to do. I know if a straight guy tried to picture sleeping with another guy just to try and fit in, they'd be like 'I'd never do that', but it's so difficult.
On meeting his first boyfriend, Kenworthy says:
I had no idea he was gay or interested at all, we just became friends, and one night we'd been out to the bars and had a few drinks, and we staying at a friend's and sharing a pull-out couch, and I kinda just thought I'm gonna kiss him, and if he punches me in the face I can play it off as having one too many to drinks or just being an idiot. But it ended up being reciprocated and it started a five-year relationship.
Of his experience at the Sochi Olympics, Kenworthy said he was 'sick to his stomach' over the anti-LGBT legislation in Russia and wanted to "make a stand":
I talked to my ex about kissing him at the bottom of the [ski] run, as my big 'fuck you' to the Russian legislature. I thought about it a lot and it just didn't happen. I'm glad it didn't now, because I hadn't told anyone at the time – my parents didn't even know – but the fact I hadn't made me feel guilty. And afterwards I had all these interviews, and even though I've done interviews since I was 16 I'd never been asked about girlfriends or anything like that, and then to suddenly be thrown into the spotlight and be called a heartthrob, it wasn't a mantle I was that excited to be carrying. When I was asked what kind of girls I was attracted to I just wanted to say 'I'm not attracted to any of them!' So it became a bit of a low point despite just winning a medal.
Gus Kenworthy also addressed speculation over the identity of his new boyfriend:
I  have been seeing someone, but it's really new and it's not something I feel ready to have be a public thing. I think having a public relationship automatically puts a lot of pressure on the relationship immediately, and when you're first seeing someone it's just about getting to know the person, so you don't want to introduce someone as your boyfriend before it's had time to develop.
As for comments he made recently that his publicist has ordered him to stop it with the shirtlessness, Kenworthy says,
I just think the worry is that I'll type-cast myself or people will come to expect it. I'm not being controlled though, [my publicist] just thinks it's important to remain a skier and not have all the emphasis on my body. And I agree. It feels good to have a bit of validation but it's very vain! I know it's vain, so I don't wanna be that guy all the time. There's a lot more to me.