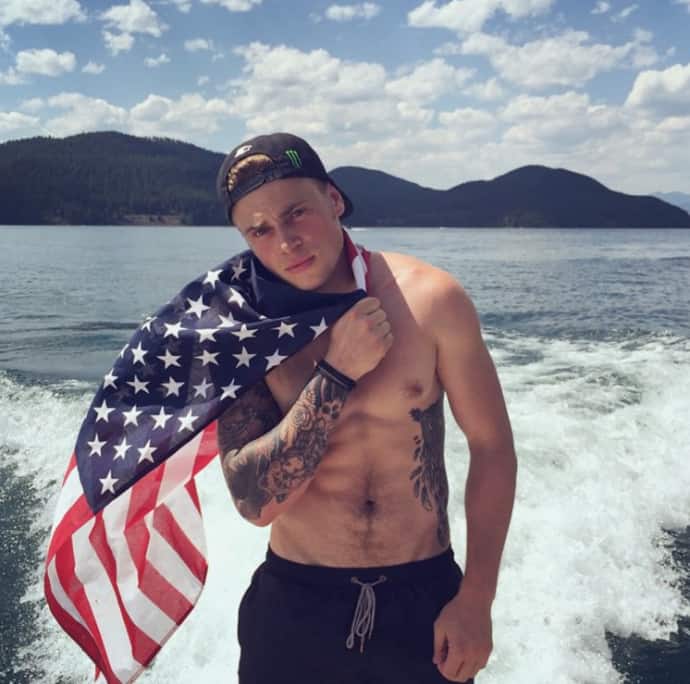 Recently out gay Olympian Gus Kenworthy said we might not be seeing too many more photos of him shirtless in the near future if his publicist gets their way.
Kenworthy spoke candidly about his exhibitionist tendencies with Michelangelo Signorile on his Sirius XM radio show on Tuesday:
"I need to cool it with that — according to my publicist," Kenworthy said with a devilish smile while gesturing to his rep, sitting nearby. "But I don't know, I guess I just felt like for so long, kind of pretending to be straight and lying in interviews, and everything that I was doing to try and fit in, I felt like I was like — I know it's not actually clothes — but I felt like I was covering myself, and covering myself, and covering myself, and really censoring myself. So when I got to the point where I was really telling people that I was gay and I knew that I was going to come out publicly and stuff, it was sort of nice, and I guess freeing, to do something like that that was kind of off-brand for me, and something fun and I guess kind of objectifying, but still something that was fun and different."
He added: "And I think I was insecure at that time. I mean, I was excited to come out but I was scared for what everyone was going to say and I knew that it was something that was happening very soon. And maybe, on a lower level, I guess I needed a little bit of attention."
Kenworthy also responded to criticism he received about one of his Halloween costumes (not the mouse or the cop) in which he dressed up as a Native American:
"I didn't think for a second when I did it that I was being offensive," he explained. "I would've never done anything that I thought was going to offend anybody."
After he deleted the photo, Kenworthy Googled around, where he said he learned a lesson.
"I went on my phone and I Googled — like an idiot — but like, 'Is it racist to dress up like a Native American?' And, I guess the answer is yes… It's sort of a vague line, because if you're a character, then it's not really racist but if you're just, like, an Indian, then it's sort of racist. But at the same point, even a character, like Pocahontas or someone, for example, is still sort of based on a racial stereotype and sort of a misinterpretation of a culture. I felt guilty that I had done it. I also feel that sometimes people do really overreact. It's Halloween. It's a night to dress-up. But I don't want to make anyone uncomfortable or feel like I was being rude or insensitive. So I took it down… I feel like, lesson learned and I won't do it again."
Listen to Kenworthy address his shirtlessness and his Halloween costumes, below: