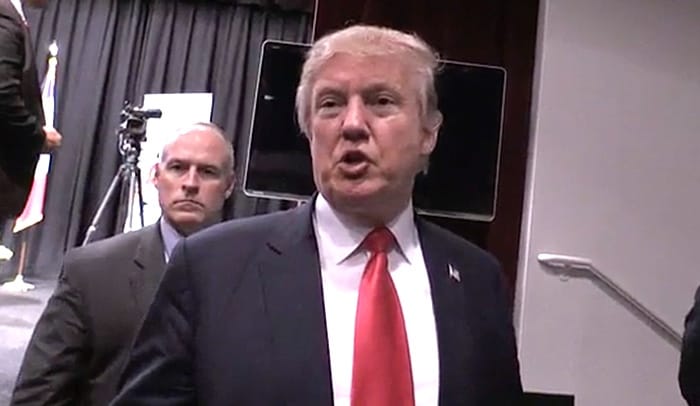 Republican 2016 frontrunner Donald Trump is calling for all Muslims to be barred from entering the United States, citing the confusion of U.S. government officials on how to handle Muslims, and Shariah law.
Trump released a statement:
Donald J. Trump Statement on Preventing Muslim Immigration
Donald J. Trump is calling for a total and complete shutdown of Muslims entering the United States until our country's representatives can figure out what is going on. According to Pew Research, among others, there is great hatred towards Americans by large segments of the Muslim population. Most recently, a poll from the Center for Security Policy released data showing "25% of those polled agreed that violence against Americans here in the United States is justified as a part of the global jihad" and 51% of those polled, "agreed that Muslims in America should have the choice of being governed according to Shariah." Shariah authorizes such atrocities as murder against non-believers who won't convert, beheadings and more unthinkable acts that pose great harm to Americans, especially women.
Mr. Trump stated, "Without looking at the various polling data, it is obvious to anybody the hatred is beyond comprehension. Where this hatred comes from and why we will have to determine. Until we are able to determine and understand this problem and the dangerous threat it poses, our country cannot be the victims of horrendous attacks by people that believe only in Jihad, and have no sense of reason or respect for human life. If I win the election for President, we are going to Make America Great Again." – Donald J. Trump
Trump also tweeted:
https://twitter.com/realdonaldtrump/status/673982228163072000
Also:
When asked by The Hill whether that would include Muslim-American citizens currently abroad, Trump spokeswoman Hope Hicks replied over email: "Mr. Trump says, 'everyone.'"
The NYT reports that Trump is expected to speak further about his proposal at a campaign rally at the USS Yorktown in South Carolina on Monday night:
The proposal drew immediate condemnation from Muslim-Americans. Eboo Patel, the president of Interfaith Youth Core, based in Chicago, said, "I'm standing in a building right now where I am looking up at the Sears Tower, which was designed by Fazlur Rahman Khan," a structural engineer originally from Bangladesh who was behind what is now known as the Willis Tower.
"What if we had barred Russians from America because of the Cold War? Who would have invented Google?" Mr. Patel asked, referring to Google's co-founder, Sergey Brin.
It's perhaps the most extreme statement on Muslims we've seen from Trump in this campaign, which is saying a lot considering his last statement, which called for a database to track Muslims in the United States, reminded many of Nazi Germany.
Back in September, Trump was asked this question at a campaign stop:
"We have a problem in this country, it's called Muslims. Our current president is one. You know he's not even an American….We have training camps growing where they want to kill us. That's my question: When can we get rid of them?"
His response:
"A lot of people are saying that and a lot of people are saying that bad things are happening out there. We're going to be looking at that and a lot of different things."