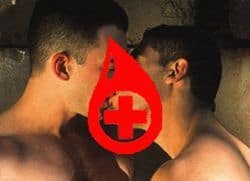 On Monday the FDA announced it would end its discriminatory policy of banning gay and bisexual men from donating blood. Instead, the FDA will instate a new rule that requires MSM (men who have sex with men) to be abstinent for one year in order to give blood.
The FDA said in a press release issued Monday:
As part of today's finalized blood donor deferral guidance, the FDA is changing its recommendation that  men who have sex with men (MSM) be indefinitely deferred – a policy that has been in place for approximately 30 years – to 12 months since the last sexual contact with another man. These updated recommendations better align the deferral period for MSM with the deferral period for other men and women at increased risk for HIV infection – such as those who had a recent blood transfusion or those who have been accidentally exposed to the blood of another individual. The FDA examined a variety of recent studies, epidemiologic data, and shared experiences from other countries that have made recent MSM deferral policy changes.
"In reviewing our policies to help reduce the risk of HIV transmission through blood products, we rigorously examined several alternative options, including individual risk assessment," said Peter Marks, M.D., Ph.D., deputy director of the FDA's Center for Biologics Evaluation and Research. "Ultimately, the 12-month deferral window is supported by the best available scientific evidence, at this point in time, relevant to the U.S. population. We will continue to actively conduct research in this area and further revise our policies as new data emerge."
In May, a report from the FDA recommended the lifetime ban be lifted. That ban was first instated in 1983 during the beginning of the HIV crisis. Despite advances in understanding and combatting the HIV virus, the FDA's policy has not changed in the thirty-two years it's been in place.
Many in the LGBT community are saying that the FDA's new policy is still discriminatory and unfair towards gay and bi men.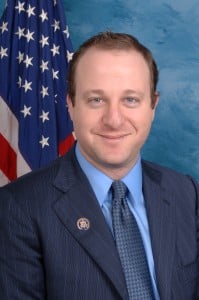 Congressman Jared Polis (D-CO), co-chair of the Congressional LGBT Equality Caucus, said in a statement,
"The FDA's new policy continues the government's troubling precedent of allowing stigma to trump science and public health when it comes to blood donations. It is ridiculous and counter to the public health that a married gay man in a monogamous relationship can't give blood, but a promiscuous straight man who has had hundreds of opposite sex partners in the last year can…There is no scientific reason to impose a celibacy requirement on gay men before they can donate blood.  The FDA should implement a process that screens potential donors relying on a science-based risk assessment rather than outdated stereotypes."

The Caucus' Vice-Chair, Congressman Mike Quigley (D-IL), echoed Polis' sentiment:
"A time-based deferral focusing solely on men who have sex with men is still discriminatory and fails to exclude donors based on actual risk factors.  However, I remain encouraged by the ongoing conversation to change this outdated policy."
Harvard Law Professor Glenn Cohen seems to agree with Quigley, suggesting that Monday's move from the FDA could be an "interim step" as Vox puts it, towards a more individualized risk-assessment blood donation rule.
"There's no medical reason to think that a one-year deferral makes a difference as opposed to a month-long deferral when the virus would show up in blood," he explained.
Cohen says these long deferrals on gay and bi men are a hangover from the early days of HIV, when the disease was known as GRID, or "gay-related immune deficiency."
As for why a one year time window was chosen to make MSM be abstinent before being allowed to donate blood, Vox notes, "A one-year deferral from the last sexual encounter is seen as more than enough time to catch anyone who might be at risk." While all donated blood is tested for HIV, "there remains a two-week window during which the current testing methods cannot detect HIV."
The new US policy now will match those of other countries (the UK, Australia, Sweden and Japan), but will also still lag behind others. Italy, for example, accepts blood donations based on individual risk assessments:
"A study on the Italian policy looked at data on the proportion of HIV-positive blood donors before (1999) and after (2009-2010) replacing their ban with an individual risk assessment in 2001. They found the change in donor policy had no impact on the blood supply."